PR and Communications internship
T.M.C. Asser institute is looking for an enthusiastic candidate to the fill the vacancy of a:
Communications & PR Intern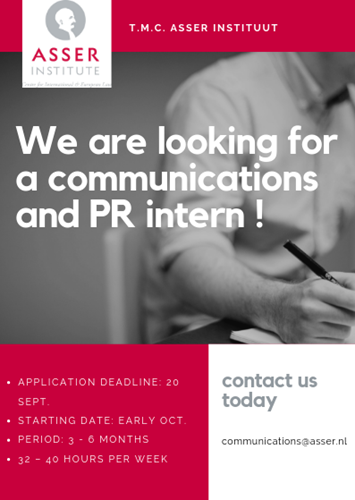 Summary:
The current communications department at the Asser Institute is fairly new, which means there is a lot of room for creativity and new ideas. As a PR and communications intern you will work under the supervision of the PR and Communications officers to assist in the implementation of the communications and social media strategies, and daily tasks. If selected, you will also work closely with the Events Department to ensure that all communications' expectations and goals are carried out successfully pre, post, and during events. You will have the opportunity to express and develop new ideas. The starting date for this internship is October 1st, preferably before, if possible.
What will you do?

Among the many engaging and fun things you will be working on, these are your main tasks:
Assist the Communications Department in implementing the communications strategy across various online platforms as well as internally.
Contribute to designing and developing communications materials for PR and marketing purposes.
Produce written and visual content for our online platforms (website, social media, and newsletters).
Help create communications plans and campaigns.
Conduct interviews (both written and on camera) with our researchers on their latest work, and with speakers and participants at our regular events.
Who are we looking for?
You are in the final stages of your studies in a relevant field (e.g. journalism, communications, media studies, public relations, international relations, European studies, marketing)
You are fluent in written and spoken English. Dutch is a plus but not mandatory.
You possess excellent writing and editing skills 
You have hands-on experience with managing different social media platforms and producing online content
You are a Microsoft Office Master (Excel, Word, Outlook, PowerPoint, etc.)
You are a quick learner, confident to work independently and in an enthusiastic team.
You have outstanding interpersonal and communications skills and can express your ideas openly and constructively.
Experience with Indesign, video editing and photography is a plus.
You possess organisational and time management skills and are able to work on several projects simultaneously.
You are creative and proactive with an eye for detail. You take the initiative to improve and develop the projects you are working on.
What we offer:
A hands-on experience at a vibrant office environment with a diverse group of colleagues, based in The Hague.
32 – 40 hours per week for a minimum period of 3 months with a possibility for extension to 6 months.
The opportunity to further your knowledge and network in the field of International and European Law, and in communications.
A compensation depending on your education and experience
A flexible work schedule.
Window for growth with the support of your colleagues and supervisors
The opportunity to go on study visits to international tribunals and courts, and attend some of our educational events for free.
How to apply:
If you are interested and think you are a suitable candidate, submit your CV and a letter of motivation in English and in MS-Word with a writing sample in the form of a journalistic news article for the website in an email to (communications@asser.nl) mentioning "Vacancy Communications and PR Intern".
The closing date for applications is 10 September, 2018. Selected applicants will be invited for an interview, and the successful candidate will start soonest thereafter.
For questions, please contact Faten Bushehri, PR & Communications Officer at (f.bushehri@asser.nl).
The T.M.C. Asser Instituut is a research centre for International and European law. Its mission is to contribute to the development of international and European law by conducting independent fundamental research, policy-oriented research, and applied legal research, as well as by initiating and facilitating academic and expert meetings, education, and public events. The institute is dedicated to building a strong research community and creating an environment that facilitates critical-constructive reflection.