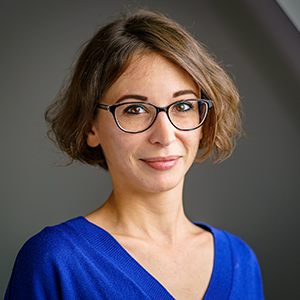 Dr. Berenice Boutin
Researcher

Department:

Research Department

Main field of interest:

Public International Law
Summary
Dr Berenice Boutin is a researcher in international law at the Asser Institute. Her work focuses on international responsibility, security, and new technologies. Berenice is currently leading a research project on the Conceptual and Policy Implications of Increasingly Autonomous Military Technologies for State Responsibility Under International Law, for which she obtained funding from the Gerda Henkel Stiftung.
Berenice is also Managing Editor of the Netherlands Yearbook of International Law (NYIL), research fellow at the International Centre for Counter-Terrorism (ICCT), and associate fellow with the SHARES Project.
Berenice's areas of expertise include:
Responsibility of States and international organisations
Responsibility in multinational military operations
Shared responsibility
Counter-terrorism and human rights (with specific expertise on administrative measures)
Evaluation and effectiveness of counter-terrorism policies
New technologies and international law
Berenice holds a PhD in international law from the University of Amsterdam (2015), and Masters in law from the University of Amsterdam (2010) and the University Paris I Panthéon-Sorbonne (2008).
Twitter: @bereniceboutin
Publications
Do Counter-Terrorism Measures Work? Appraising the Long-Term and Global Effectiveness of Security Policies, Asser Policy Brief 2018-03 (November 2018)
Technologies for International Law & International Law for Technologies, Blog of the Groningen Journal of International Law (22 October 2018)
Artificial Intelligence and International Law: Exploring Issues of Responsibility and Regulation (co-authored with Haye Hazenberg and Jeroen van den Hoven), position paper, TU Delft Pilot Program on Responsible Innovation for the Sustainable Development Goals, Project 12 (June 2018)
Responsibility in Connection with the Conduct of Military Partners, 56 Military Law and the Law of War Review (2018)
Excesses of Counter-Terrorism and Constitutional Review in France: The Example of the Criminalisation of the Consultation of Websites, Verfassungsblog (May 2018)
Attribution of Conduct in International Military Operations: A Causal Analysis of Effective Control, 18(2) Melbourne Journal of International Law (2017), pp 154–179
Targeted Killing of European Foreign Terrorist Fighters in Syria and Iraq, Peace Palace Library Blog (October 2017)
Has Countering the Financing of Terrorism Gone Wrong? Prosecuting the Parents of Foreign Terrorist Fighters, ICCT Perspective (October 2017)
Case note: The Netherlands v Nuhanovic, Dutch Supreme Court, 6 September 2013, Oxford International Organizations OXIO 231
Administrative Measures in Counter-Terrorism and the Protection of Human Rights, 27(1–2) Security and Human Rights (2016), pp 128–147
The European Union's Policies on Counter-Terrorism: Relevance, Coherence and Effectiveness (co-authored with Wim Wensink, Bas Warmenhoven, Roos Haasnoot, Rob Wesselink, Bibi van Ginkel, Stef Wittendorp, Christophe Paulussen, Wybe Douma, Onur Güven, and Thomas Rijken), Study for the LIBE Committee (February 2017)
Administrative Measures against Foreign Fighters: In Search of Limits and Safeguards, ICCT Research Paper (December 2016)
Year in Review 2015 (co-authored with Kate Pitcher and Onur Güven), 18 Yearbook of International Humanitarian Law (2015), pp 225–286
Towards a European Position on the Use of Armed Drones? A Human Rights Approach (co-authored with Christophe Paulussen and Jessica Dorsey), ICCT Report (October 2016)
The Use and Abuse of Administrative Measures against FTFs in France, ICCT Perspective (September 2016)
From the Bataclan to Nice: A Critique of France's State of Emergency Regime (co-authored with Christophe Paulussen), 26(2–4) Security and Human Rights (2015), pp 231–238; Asser Policy Brief 2016-01 (July 2016)
The Foreign Fighters Phenomenon in the European Union: Profiles, Threats and Policies (co-authored with Bibi van Ginkel, Eva Entenmann, Grégory Chauzal, Jessica Dorsey, Marjolein Jegerings, Christophe Paulussen, Johanna Pohl, Alastair Reed and Sofia Zavagli), ICCT Report (April 2016)
The Role of Control in Allocating International Responsibility in Collaborative Military Operations, Doctoral thesis, University of Amsterdam (October 2015)
The Dutch Court Ruling Against the Netherlands over Srebrenica is Consistent with International Law, EUROPP Blog (July 2014)
Case note: The Netherlands v Nuhanovic, Dutch Supreme Court, 6 September 2013, Oxford Reports on International Law, ILDC 2061 (NL 2013)
Responsibility of the Netherlands for the Acts of Dutchbat in Nuhanovic and Mustafic: The Continuous Quest for a Tangible Meaning for "Effective Control" in the Context of Peacekeeping, 25(2) Leiden Journal of International Law (2012), pp 521–535
Responsibility in Multinational Military Operations: A Review of Recent Practice, SHARES Expert Seminar Report (December 2011)