Khadr, Omar
Country of proceedings: Canada, United States

Context of crimes: War on terrorism (Afghanistan)
Date: 2002 - 2012
Keywords: Terrorism (murder, conspiracy, material support), procedural law (evidence)

Court Documents
US Military Commissions (see downloadable documents at right top of this page)
07-11-2005 - Charges
02-02-2007 - Sworn Charges
24-04-2007 - Referred Charges
04-06-2007 - Motion Session (Charges Dismissed)
08-11-2007 - Arraignment
08-03-2010 - Defence Motion to Declare Statements Inadmissible
17-08-2010 - Ruling (Rejecting claims of torture to obtain a confession)
13-10-2010 - Pre-Trial Agreement
For all documents, see here

US Courts
15-04-2008 - US Court of Appeals, Columbia: Dismissal of petition to review combatant status
30-04-2008 - Dismissal of motion to dismiss the case due to child soldier status
24-11-2008 - US Columbia District Court: Denial of request to have trial stopped
20-07-2010 - US Columbia District Court: Memorandum Order
02-08-2010 - US Supreme Court: Petition for writ of mandamus
13-10-2010 - Signed Stipulation of Facts

Canadian Courts
10-05-2007 - Federal Court of Appeal - in English / in French
23-05-2008 - Supreme Court of Canada - in English /in French
23-04-2009 - Federal Court of Canada (ordering the Government to seek Khadr's repatriation) - in English / in French
14-08-2009 - Federal Court of Appeal (upholding the decision on repatriation) - in English / in French
29-01-2010 - Supreme Court of Canada (Government not obligated to seek Khadr's repatriation) - in English / in French
05-07-2010 - Federal Court of Canada - in English / in French
22-07-2010 - Federal Court of Appeal - in English (see downloadable documents at right top of this page)

Press releases
29-09-2012 - US DoD Press Release - Detainee Transfer Announced
31-10-2010 - US DoD Press Release - DoD Announces Sentence for Detainee Omar Khadr
31-10-2010 - US DoD Press Release - Details of Omar Khadr Plea Agreement Released
10-08-2010 - Statement by the Special Representative of the UN Secretary-General for Children and Armed Conflict
12-07-2010 - Canadian Department of Justice Statement
24-04-2007 - Military Commission Charges Referred
Presentation of the case
The Canadian citizen, Omar Ahmed Khadr (1986), was captured in July 2002 in Afghanistan when he was 15 years old and was transferred to Guantanamo Bay in November 2002. The Combatant Status Review Tribunal (CSRT) concluded on 8 September 2004 that Khadr was an "enemy combatant".

In November 2005, he was charged with conspiracy, murder, attempted murder and aiding the enemy. He was to be tried by the Military Commission, but it was later abolished after the Supreme Court ruled that military tribunals were unlawful.

New charges were sworn against Khadr on 2 February 2007, namely murder, attempted murder, conspiracy, providing material support for terrorism and spying. Khadr petitioned the U.S. Supreme Court to review the legality of the Military Commission and his detention, but his request was denied in April 2007.

On 4 June 2007, all charges against Khadr were dismissed because Khadr was not classified as an "unlawful enemy combatant". The Military Commissions Act of 2006 says that military commissions do not have jurisdiction over those classified as "lawful combatants". This decision was finally overturned and on 9 September 2007, charges were reinstated against Khadr. After the US Supreme Court refused to grant a writ of mandamus in August 2010, the heavily-criticized military court trial against Khadr began on 10 August 2010. However, on 14 October 2010, proceedings were suspended as the parties began negotiations on a plea agreement, which was announced on 15 October. On 31 October 2010, the details of the agreement and sentence were released, with Khadr admitting his guilt and receiving a sentence of 40 years' imprisonment. Under the terms of the agreement, Khadr will serve a maximum of 8 years.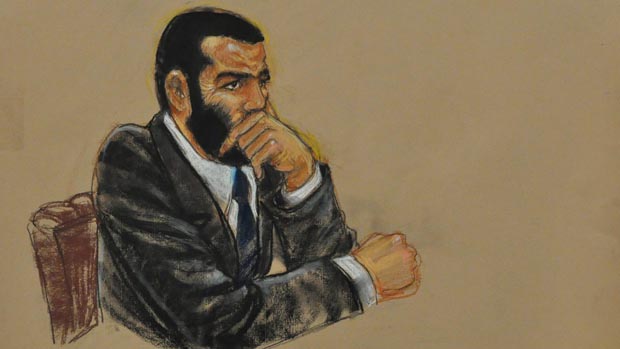 Omar Khadr on 30 October 2010 at Guantanamo Bay

The proceedings before the Canadian Courts relates to the request by Khadr's lawyers to have access to certain documents that Canada allegedly provided to US authorities, along with videotapes of Khadr's interrogations at Guantanamo Bay. The Supreme Court of Canada ruled that Omar Khadr has a constitutional right to see confidential documents, but that the government could withhold some information for national security purposes. Furthermore, the Federal Court ruled in April 2009 to order Canada to seek Khadr's repatriation from Guantanamo Bay, but the Supreme Court overturned this decision in January 2010. However, the Supreme Court also unanimously found that Canada had breached Khadr's rights under the Canadian Charter of Rights and Freedoms.
In July 2010, the Canadian Federal Court gave the Canadian government seven days to remedy its breach of Khadr's rights, having so far failed to ameliorate the breaches of the Charter. However, the Federal Court of Appeal later ruled that the lower court lacked the authority to impose a remedy and the decision had interfered with matters solely the domain of the government.
In April 2012, Omar Khadr, still detained at Guantanamo, sent an application to the Canadian government requesting a transfer to his home state. On 29 September 2012 Omar Khadr was transfered to Canada where he will serve the rest of his eight year sentence.

Other cases before the Military Commissions
Cases
About: DomCLIC
Welcome to "DomCLIC" – an ever-expanding database of domestic case law relating to international criminal law.