Advanced Summer Programme on Countering Terrorism within a Rule of Law Framework
27 - 31 August 2018
Starts at:

09:30h

Fee:

1695

Venue:

T.M.C. Asser Instituut

Organiser:

T.M.C. Asser Instituut and the International Centre for Counter-Terrorism (ICCT)

Address:

R.J. Schimmelpennincklaan 20-22
2517 JN The Hague
Netherlands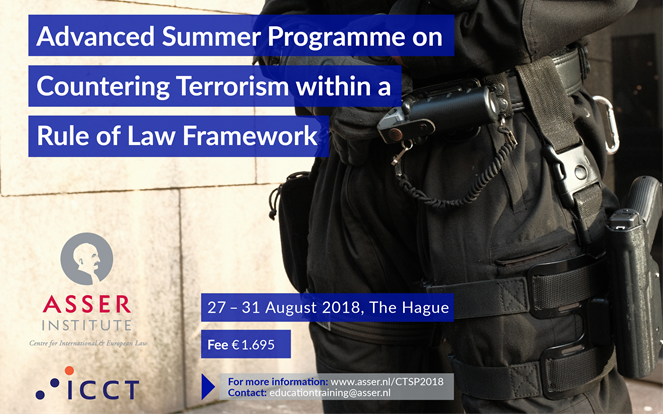 Overview
The Advanced Summer Programme on Countering Terrorism within a Rule of Law Framework is co-organised by the Asser Institute and the International Centre for Counter-Terrorism – The Hague (ICCT) and seeks to provide a comprehensive understanding of legal aspects of counter-terrorism.
In its Resolution 2396 of 21 December 2017, the United Nations Security Council reaffirmed that 'terrorism poses a threat to international peace and security and that countering this threat requires collective efforts on national, regional and international levels on the basis of respect for international law', and that 'States must ensure that any measures taken to counter terrorism comply with all their obligations under international law, in particular international human rights law, international refugee law, and international humanitarian law'.
This Advanced Summer Programme offers an in-depth look at the challenges that come with adopting and implementing counter-terrorism measures while ensuring respect for human rights, fundamental freedoms and the rule of law. During an intensive week, experts from academia and practice will explore (international) legal aspects of counter-terrorism and provide key insights into current issues and best practices.
The programme covers a wide range of topics (including the definition of terrorism in international and domestic law, legal limits to military responses to terrorism, criminal justice responses to terrorism, evidentiary issues and other prosecutorial challenges, administrative and security measures), and comports various types of activities (including lectures, interactive sessions, study visits, group discussions, panel presentations).
Confirmed speakers include:
See preliminary programme here. 
Two Programmes for a Discounted Price
Prior to this summer programme, participants have the opportunity to enrol in a complementary summer programme that focuses on preventing violent extremism. This programme is organised by the Centre for Professional Learning of Leiden University and ICCT. Participants who wish to register for both summer programmes (preventing violent extremism organised by Leiden University and Rule of Law organised by the Asser Institute) can do so for a discounted price of €2995. Please contact Educationtraining@asser.nl if you wish to register for the combined summer programme discount package. 
Objectives 
Participants to this Summer Programme will:
Gain a solid understanding of the different legal challenges and underlying dilemmas when adopting and implementing counter-terrorism measures
Be provided with tools and best practices to effectively prevent and combat terrorism within a rule of law framework
Explore both theoretical and practical aspects of counter-terrorism with high-level speakers
Have unique networking opportunities with speakers and participants from diverse backgrounds.
Target Audience
This Summer Programme is designed for policy makers, policy/legal advisers, diplomats, security officials, and other practitioners in the field of counter-terrorism who wish to gain a comprehensive understanding of legal aspects of counter-terrorism. Other professionals as well as (academic) researchers who wish to expand or update their knowledge of counter-terrorism within a rule of law framework are also invited to apply.
Application
To register for the summer programme, please click on the register button above to fill out the form.

Please read the Registration Information & Conditions carefully before registration. 

Fee 
€ 1695
€ 2995 (Discounted price for both programmes: Asser Institute and Leiden University)
The fee includes lectures, study materials, study visit(s), refreshments, welcome drinks, closing lunch and a reception. 
The fee does not cover (international) travel costs, travel to and from airports, (hotel) accommodation, insurance or other expenses. The T.M.C. Asser Instituut can provide participants with a list of suitable hotels in The Hague.
Location
This established Summer Programme takes place since 2011 in The Hague, the International City of Peace and Justice, at the Asser Institute, Centre for International and European Law.