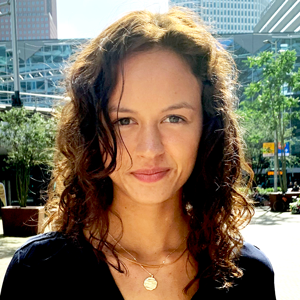 Kaya van der Horst BA
Intern - trainee

Department:

Interns

Section:

Public International Law/International Humanitarian Law/International Criminal Law

Main fields of interest:

Digital Governance

Gender Studies

Transitional Justice
Profile
Kaya obtained her bachelor's degree from the honors college of Leiden University, Leiden University College (LUC) The Hague. She majored in International Justice. Her bachelor thesis—in which she examined the extent to which IHRL can protect irregular migrants against the adverse effects of AI technologies employed in the EU's H2020-funded border security projects—ultimately cemented her desire to work on behalf of migrant's human rights. Her thesis was nominated for the Brill Prize for best thesis of the year.
During her bachelor's, Kaya worked as a research assistant in a research clinic that examined and compared safeguards against radicalization and extremism within the armed forces of six NATO countries. This clinic was partly funded by the Network for Research on Hateful Conduct and Right-Wing Extremism. Her book review on Cynthia Miller-Idriss' Hate in the Homeland: The New Global Far Right was published in Contemporary Voices: St. Andrews Journal of International Relations (available here).
Kaya will continue her education in September at the Graduate Institute Geneva with a Masters in International Affairs and Development. Her specialization will be 'Migration, Mobilities and Boundaries,' and she looks forward to contributing to a more just world of human mobility in her professional career. In addition to the securitization of migration and its human rights implications, Kaya's interests extend to transitional justice, digital governance, gender studies and extremism.