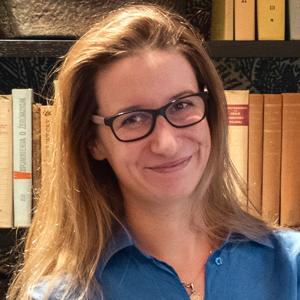 Dr Magda Pacholska LL.M.
Researcher

Department:

Researchers

Research strand:

Regulation in the public interest: Disruptive technologies in peace and security

Main fields of interest:

International Humanitarian Law

International Legal Theory

International Technology Law

Law of International Organisations
Profile
Magda is a Marie Sklodowska-Curie Individual Postdoctoral Fellow working on the project entitled "Implementing International Responsibility for AI in Military Practice" within the DILEMA project.
Before joining the Asser Institute, Magda worked as a legal adviser at the Polish General Command of the Armed Forces, where she focused on the legal aspects of interoperability in joint operations.
Magda obtained her Ph.D. from the Hebrew University of Jerusalem, as part of the Human Rights under Pressure interdisciplinary research training group. She has been a visiting scholar at the Free University of Berlin, and the Max Planck Institute Luxembourg for International, European and Regulatory International Law. Magda also holds an LL.M. (2014) in International Criminal Law from the University of Amsterdam (joint program with Columbia Law School).
Publications
Monographs
(2020) Complicity and the Law of International Organizations: Responsibility for Human Rights and Humanitarian Law Violations in UN Peace Operations, Edward Elgar International Law Series
Blogposts
(2023) The Legal Fiction of the Two-Element Approach: The Role of International Organizations in Customary IHL Identification, EJIL:Talk!
Peer-reviewed journals
(2022) Military Artificial Intelligence and the Principle of Distinction: A State Responsibility Perspective, 56 (1) Israel Law Review, p 3-23.
(2019) New Kids on the Block? International Organizations as Customary Rules Creators, 21 (3-4) International Community Law Review, p 325-343.
(2015) (Il)legality of Killing Peacekeepers: The Crime of Attacking Peacekeepers in the Jurisprudence of International Criminal Tribunals, 13 (1) Journal of International Criminal Justice, p 43-72 (awarded 2015 Journal of International Criminal Justice Prize).
Headnotes and case analysis
(2017) "UNSC Res 1270 (1999) on the establishment of the UN Mission in Sierra Leone (UNAMSIL)", Oxford International Organizations (OXIO) 175.
(2017) "UNSC Res 2272 (2016) on sexual exploitation and abuse by United Nations peacekeepers", OXIO 76.
(2017) "UNSC Res 2098 (2013) on the establishment of a Force Intervention Brigade", OXIO 63.
(2017) "Human Rights Due Diligence Policy on United Nations Support to non-United Nations Security Forces (UN Doc A/67/775-S/2013/110), OXIO 111.
(2017) "Report of the Special Rapporteur on extreme poverty and human rights (UN Doc A/71/367), OXIO 155.
(various) more than 20 headnotes on selected jurisprudence of the International Criminal Court for the Oxford Reports on International Criminal Law, available at:
< https://opil.ouplaw.com/search?q=pacholska&prd=OPIL&searchBtn=Search >