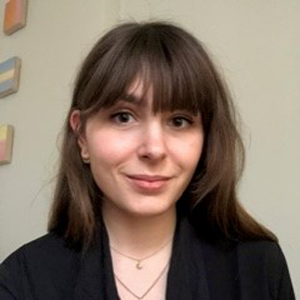 Maxine van Ekelenburg LL.M.
Intern - trainee

Department:

Interns

Section:

Public International Law/International Humanitarian Law/International Criminal Law

Main fields of interest:

International Criminal Law

International Human Rights Law

International Humanitarian Law

Transnational Criminal Law
Profile
Maxine recently obtained her master's degree in Global Criminal Law at the University of Groningen. In her thesis, she examined the possibility of incorporating the crime of sex trafficking within the realm of crimes against humanity. Currently, she is finalizing her second master's degree in International Human Rights Law. She is writing her master's thesis on the topic of sex trafficking as a form of gender-based violence in the context of women's and human rights. Prior to her LLMs, she obtained a BA in International Relations, also at the University of Groningen.
Maxine's primary interests lie within the fields of international and transnational criminal law, international human rights law and international humanitarian law.
At the Asser Institute, Maxine will focus on the International Crimes Database and the Asser Nexus on Conflict and Crime. She will primarily be assisting the Asser research strand 'In the public interest: accountability of the state and the prosecution of crimes' (ASPC)."