1965
Foundation of the T.M.C. Asser Instituut 
On 13 December 1965, the inter-university institute for international law, T.M.C. Asser Instituut, was founded when representatives of eight Dutch institutions in the area of academic education signed the "Gemeenschappelijke regeling [Joint Memorandum of Association] (in Dutch) in the small court room of the Peace Palace in The Hague.

This was the result of a long process that started in 1961 when J. Offerhaus [Obituary], Professor of private and commercial international law at the University of Amsterdam, invited his colleagues from the other Dutch law faculties to discuss inter-university cooperation regarding documentation and research projects. During the years following the initial meeting, the original plan was significantly modified. The law faculties decided to found an institute whose activities would not be confined to private international law, but would also involve research and documentation in two other areas of international law: public international law and the law of the European Communities.

During that process Offerhaus was assisted by one of his PhD students, C.A.A. Voskuil, who, after defending his PhD in 1962, was appointed as head of a special office set up by the University of Amsterdam to prepare the foundation of the Institute. In 1964, this so-called 'provisional Central Office' moved to The Hague and Bert Voskuil was appointed director of the future Institute and commissioned with its staffing and the preparation of the research and documentation programmes.

In 1965 it was decided to name the Institute after Tobias Michael Carel Asser (1838–1913), a famous Dutch international law scholar who was awarded the Nobel Peace Prize in 1911 (see also 1991 and 2011).

The establishment of the Institute drew quite some attention in newspapers as well as the official Staatscourant (Law Gazette).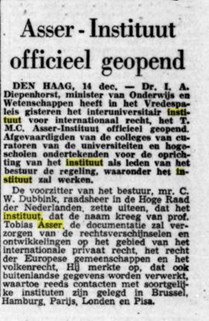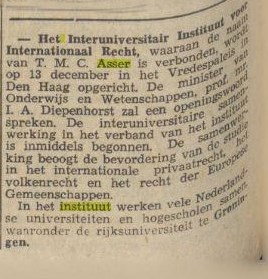 De Tijd/De Maasbode, 14 December 1965      Nieuwsblad van het Noorden, 4 December 1965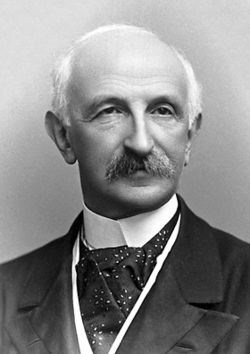 Tobias Michael Carel Asser (Photo: Asser archives)       
Correspondence between Cleveringa and De Winter regarding m.b.t. Prof. Offerhaus: d.d. 30-10-1966, 09-11-1966 en 07-12-1966 (in Dutch)
Cover description of the Asser Institute