1972
First T.M.C. Asser Instituut Colloquium European Law

On 7 July 1972, the first T.M.C. Asser Instituut Colloquium Europees Recht took place at Hotel Ambassador in The Hague. The conference was organised by the European Law department of the Institute in cooperation with Professor Laurens Jan Brinkhorst (University of Groningen) in his capacity of chairman of the Committee European Law of the Institute, and J.A. Winter (lecturer University of Groningen). The conference was funded by the Commission of the European Communities.

The conference on the subject Implementation of Community law in the Dutch legal order, was attended by around 30 people, mainly professors in European Law from the six nations which at the time constituted the European Communities since 1957, and from the three candidate countries about to join the in 1973: Denmark, the UK, and Ireland. The programme included presentations on the organisation of education in European Law, the services rendered by the European Commission for the collection of documentation, and a presentation on the activities of the Institute. The Asser Institute had compiled a documentation folder on the sources of European Law.

Early in 1973, the conference report was published, entitled Uitvoering gemeenschapsrecht in de Nederlandse rechtsorde [Implementation of Community law in the Dutch legal order].

This colloquium was the first inalong tradition of annually organised, international European Law conferences that lasted until the 38th session in 2009. During the 38th conference the Centre for the Law of EU External Relations (CLEER) was launched (see 2009). From then on (many) European law gatherings have been organised by the Institute, but now under the flag of CLEER.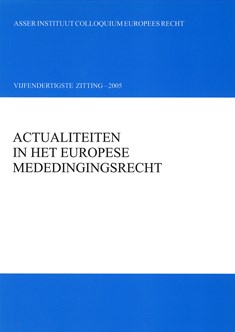 Cover of the Colloquium report 2005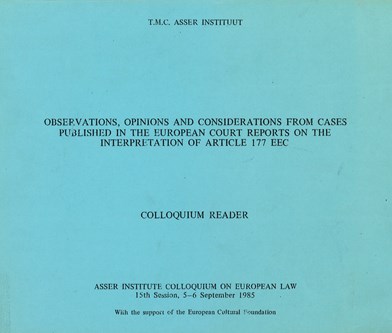 Cover of the Colloquium reader 1985


List of European Law colloquia

Report Colloquium European Law 1972