1974
First Hague-Zagreb Colloquium

In 1974 the first session of the so-called Hague-Zagreb Colloquium was held in Stubičke Toplice, Yugoslavia.

The experience derived from this successful meeting inspired both Institutes, T.M.C. Asser Instituut and the Institute for International Law and International Relations in Zagreb, to engage in the joint venture of a biennial colloquium on the Law of International Trade, as a means of facilitating exchanges of legal information and discussion between legal scholars and institutions in eastern and western Europe, on subjects of private international law.

The governments of Yugoslavia and the Netherlands gave invaluable assistance rendered under the Cultural Treaty existing between both States.

The excellent results of this first conference inspired the publication of a colloquium report, the first of a total of eight, the so-called "green books".

In 1985 a third partner was included, viz., the University of Ghent (in Belgium). From that year on it was called The Hague-Zagreb-Ghent Colloquium. The governments of the Netherlands and Yugoslavia and the Flemish Community gave financial assistance under the cultural treaties linking the Netherlands and the Flemish Cultural Community with Yugoslavia.

The eighth and last session was held in Knokke in 1989. The preceding seven sessions were held in Stubičke Toplice (1974), Zeist (1976), Opatija (1978), Eernewoude (1981), the Isle of Krk (1983), Vlissingen [Flushing] (1985) and Zadar (1987).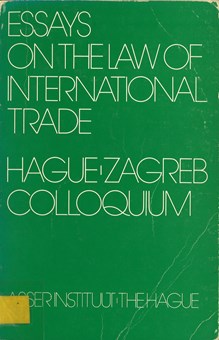 Cover of Colloquium report 1974
1974: Hague-Zagreb Colloquium: Essays on the law of international trade: Part 1, Part 2, Part 3, Part 4, Part 5