1985
Extra premises for the T.M.C. Asser Instituut

In 1985, on 11 September to be exact, part of the Institute moved to a new building at Alexanderstraat 21, opposite Alexanderstraat 20-22. The Institute had a lack of meeting rooms and more space for the electronic equipment was needed. Again with the help of the Ministry (see 1970 and 1979) and with that of the owner of Alexanderstraat 21, the Asser Institute came to a lease arrangement.

The European Law department and the Library, Documentation and Publication department moved to the new premises. The library itself remained in the main building.

Since crossing the street between the two buildings involved passing two very busy carriage ways and two sets of tram rails, it can be called a miracle that no Institute staff ever had an accident.

The Institute's hardware and computer programmes had an easier deal: somewhere during the first half of the 1990's a cable was put down underground across the street to connect the computers of the two buildings and thus make a network possible.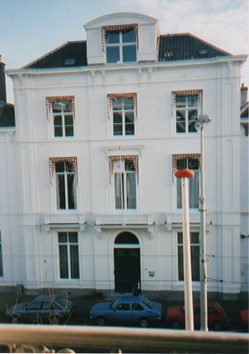 Alexanderstraat 21 (Photo: V.P. Verkruissen)