1989
Start of Asser College Europe (ACE)
During the spring of 1989 Unesco Cepes in Bucharest drafted a project in the field of trade and business law for the benefit of academic institutions in Eastern and Central Europe. The T.M.C. Asser Instituut was, because of its earlier contacts in Eastern Europe, approached as a cooperation partner. The programme proved even more important after the fall of the iron curtain later that year. The formerly communist states needed new legislation in these and other areas (e.g., in the field of taxation and company law) and were only too happy to send young PhD-students and young professionals to be educated in (among other subjects) European law, thus avoiding having to invent laws in these areas from scratch. This proved especially fortuitous in the light of their later accession to the European Union.
The programme was named Asser College Europe (ACE) and formally started in 1989.
In the meantime the head of the Institute's Library and Documentation department had developed a second pillar within ACE, viz., a course for Eastern European information specialists, so as to provide the participating countries with documentalists schooled in computer skills and in finding European documents. In fact, the very first two courses given within the ACE-programme were for this target group in October 1990 and October 1991, the first course for students and young professionals running from November 1991 to March 1992.
The ACE-programme was discontinued in 2008. During the years 1990-2007 there were 17 courses for information specialists with a total of 158 participants and 8 trainees, 16 courses for PhD-students and young professionals with a total of about 250 participants and about 150 individual researchers in the third pillar of ACE: the Postgraduate International Trade Law Research Project.
See also the website with alumni of the ACE course for Information Specialists.
In 1999 a commemorative book was published to celebrate the 10th anniversary of ACE.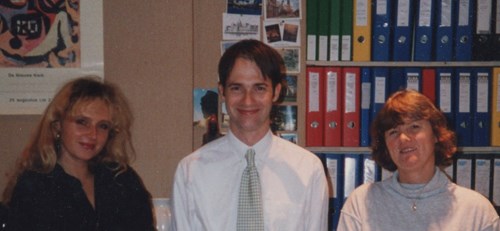 The dedicated people of the Education unit, 1994 (Photo: V.P. Verkruissen)
Hennie Blackford had joined the Education unit of the Asser Institute in 1988. A year later Asser College Europe was launched and she became responsible for the operational matters of ACE. Until her sudden death in 2003, due to a cardiac arrest, she was actively involved in all educational activities of the institute and for many students and researchers she played a focal role during their stay in the Netherlands.
On our way to a new Europe 1989 - 1999: part 1, part 2, part 3