1993
Asser Annual Nature Walks
In 1993 a pilot was launched for an "inter-university walk". Why not invite the colleagues from the T.M.C. Asser Instituut and their friends and relations from the nine Dutch law faculties for a sportive outing. An outing during which it was absolutely not allowed to talk shop. The response was most positive and in the spring 26 participants made the first of 15 "Asser nature walks", which was held near Utrecht. Halfway, the Asser Institute treated the party to pannenkoeken [pancakes] and all in all the day passed in high spirits. It was most refreshing to find out that the colleagues from the universities were pleasant to walk and talk with.
A tradition was born. With the exception of one year (2001, when there was an outbreak of foot and mouth disease) up to and including 2008 each year a walk was organised. Mostly in the middle of the country, for the colleagues from the far north and the far south should be able to join as well. Nevertheless, in 1998 a walk was made in the south of Limburg. A memorable day, for on this occasion the first two "Asser walk" medals were awarded to two participants that had joined for five walks. In subsequent years many more people would be honoured with the precious metal.
Throughout the years, the number of participants varied from 10 to 24. In 2008 17 participants joined for the last walk, held in The Hague and following a track along institutions of international law or related to international law. A most dignified closure of a memorable era.

First Asser walk, 1993, Driebergen-Zeist to Maarn (Photo: Karel Wellens)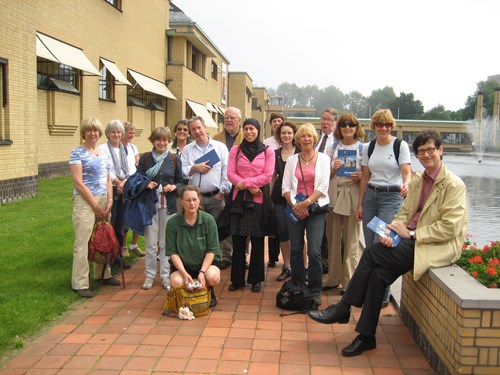 15th and last Asser walk, 2008, The Hague (Photo: private collection)