1995
PHARE activities of the T.M.C. Asser Instituut
Between July and December 1996 an Asser research team (Ms July Murphy O'Connor, Mr Roel van de Ven and Mr Fred Kellermann) worked on a PHARE research project regarding "Institutional Issues of Membership of the Czech Republic in the European Union". It was the first research project the Institute conducted in the field of European enlargement and its successful completion was a basis for many more projects in this field. It was implemented in close cooperation with Professor Sacha Prechal of Tilburg University.
The Final Report was finalised on 23 December and then sent to the government of the Czech Republic, where it was discussed in two sessions at the Czech Ministry of Foreign Affairs. It focussed on the decision-making procedures of the EU, the means and methods used by other Member States to internally coordinate their EU policies and a country-by-country analysis of two of the latest EU member states (Finland and Austria).
The report contained a set of recommendations to the Czech government with respect to possible internal changes in coordination and decision-making procedures concerning Czech EU policy. Furthermore, the report stressed certain institutional problems which might arise in the Czech Republic during the so-called "pre-accession phase". The Czech Ministry of Foreign Affairs approved the Final Report in January of that year.
1995 was a very important and fascinating year.
Important because of the policy plan, developed during the last months of 1994 and the first months of 1995, was implemented after approval by the Governing Board and the Academic Council.
Fascinating because of the interesting and stimulating academic and organisational projects set in motion as a consequence of this strategic reorientation and process of change.
The Institute fundamentally changed its subsidy policy; as from 1995 it has to be reimbursed by third parties for certain services rendered (e.g., the organisation of large international conferences, academic meetings and/or publication of books, journals and conference readers) and a more active policy has been adopted with respect to contract research and consultancy. At least three substantive (international) projects were undertaken by the Institute on the basis of the unique collections of documentary sources.
1995 was also the start of the annual report being published in the English language.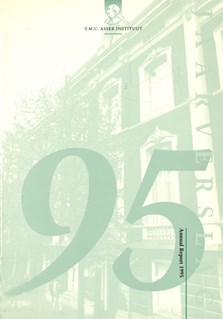 The book: "The molding of International Law: 10 Dutch proponents", is a compilation of a series of earlier published leaflets focussing on a number of renowned and influencial scholars of Dutch origin.