1998
Move to Schimmelpennincklaan
The year 1998 turned out to be one of the most important years in the history of the T.M.C. Asser Instituut. The rehousing operation and all its related preparatory and implementing activities dominated the agenda of many of the staff between the beginning of the year until October.
The whole operation culminated in a successful and eventful opening ceremony on 25 September, for an audience of approximately 350 guest and opened by the Mayor of The Hague, W.J. Deetman.
Although most efforts and attention had to be devoted to the house moving, educational and documentation projects and activities continued as a result of the expanding national and international cooperation including that with most of the participating Dutch law faculties.
This year was also the year that started the custom of having art exhibitions in the Institute (see 2002). On the occasion of the opening, an exhibition by Eastern European artists living in the area of The Hague was held. The whole building was used to display various forms of art which could also be bought by visitors or personnel. [More]
Other things personnel could take home in 1998 were parts of the furniture in the old building, since the new building had state-of-the-art furnishing. This was not overly extravagant, taking into consideration that some of the Institute's furniture had been bought second-hand in 1965. The invoices were "conveniently" forgotten to be sent.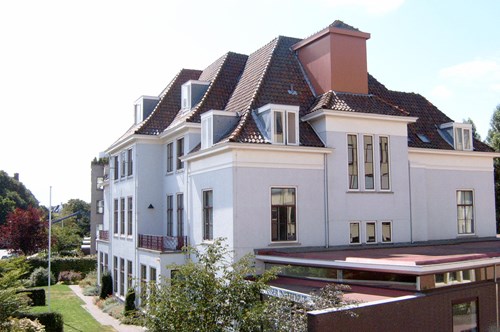 R.J. Schimmelpennincklaan 20-22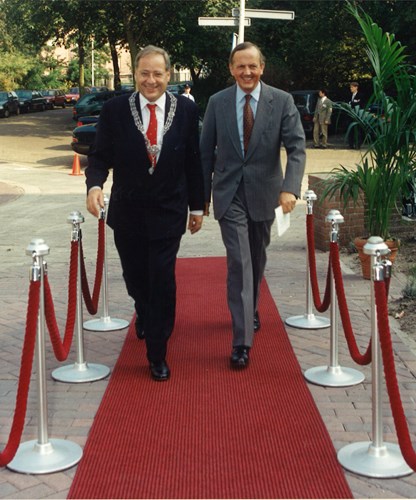 Mayor Wim Deetman enters the Institute before the official opening
(Photos: Asser archives)
[More]
The exhibitors were:
Veronika Begunova
Julia Hultenga
Natasa Nikolic
Asmir Ademagic
Anna Orbaczewska
Martin Mandaliev
Aleksandra Gaca
Natasa Todorovic
Hakim Toudiev
Zainetdin Mirsaev
Paulina Matusiak