1999
T.M.C. Asser Press
When in 1999 T.M.C. Asser Press was established the new publishing house took over the activities of the Institute's Publications unit (see 1977). At the end of the same year an experienced publisher was hired and the Press started the new millennium with two and a half full time equivalent on the pay roll and a fresh concept for its publishing activities.
As a modern publishing house it was deemed opportune to outsource distribution and sales as well as a good deal of marketing. Kluwer Law International, previously the publisher of most of the Asser Institute publications, signed for such cooperation concerning the English language publications. For the Dutch language publications – mainly student readers and a few ad hoc publications – a contract was signed with Boom Juridische Uitgevers in The Hague and their distribution centre in the east of the country. A couple of years later, Kluwer Law International split up its activities and a new contract concerning the English language publications was then signed with Cambridge University Press (CUP).
In the meantime electronic publishing became booming, a development that would not be ignored. As of 2004 the Asser Press journals and Yearbooks appeared both in print and electronically through CUP. The great leap forward in this respect came when in 2010 a contract was signed with the German publishing house Springer Verlag. Since then all Asser Press books have appeared in any format thinkable and are marketed and sold through Springer's excellent worldwide marketing and sales network. In 2015 the Asser Press journals followed. Apart from the distribution and marketing Asser Press benefits from Springer's innovative production systems as well. The Dutch language publications are anno 2015 distributed by Ten Brink Uitgevers in Meppel.
In the course of its 15 years of existence the contribution of T.M.C. Asser Press to the results of the Asser Institute has steadily grown. Apart from that Asser Press has acquired a solid name in the realm of international law publishing.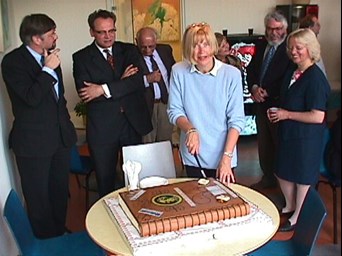 The cutting of a rich book-shaped cake in the presence of all relevant actors of the moment marked the start of the new publishing house
(Photos: Asser archives)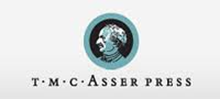 1999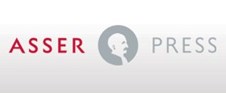 2011