2005
Fortieth anniversary of the T.M.C. Asser Instituut
Although the Asser Institute's 40th birthday was in 2005, the festive commemorative meeting to celebrate this was not held until 28 September 2006 when a symposium was organised in the Great Hall of Justice at the Peace Palace in The Hague.
After an opening address by the Chairman of the Institute's Governing Board Professor Michiel Scheltema, President of the International Court of Justice H.E. Judge Rosalyn Higgins delivered a substantive lecture on the modern history of public international law in the last 40 years. She eloquently put into perspective certain developments in international law and in state practice during this period.
Comparable surveys were presented on private international law by Dr. Hans van Loon, Secretary-General of the Hague Conference on Private International Law, and by Professor Jaap de Zwaan (Clingendael Institute and Erasmus University Rotterdam) on developments in European law.
Concluding remarks were presented by Professor Frans Nelissen, Director of the Asser lnstitute, who emphasised the importance of knowledge-based cooperation in The Hague. He also referred to the role of the Asser lnstitute in the Hague Academic Coalition (see 2003).
The symposium was concluded with the presentation of the Asser Medal of Merit by Dr. Wim Deetman, Mayor of The Hague, to Dr. Sybolt Noorda, former Chairman of the Board of the University of Amsterdam, the governing body of the T.M.C. Asser lnstitute.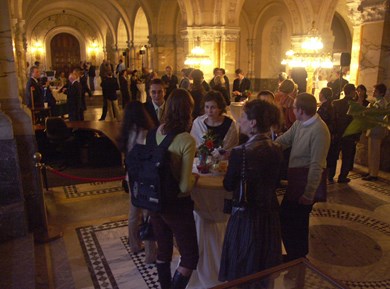 Reception in the hall of the Peace Palace (Photos: Asser archives)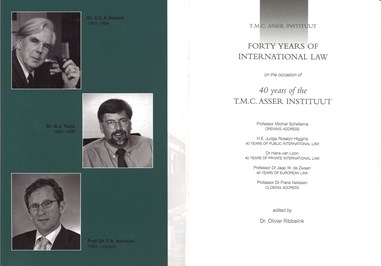 Inside cover of commemorative book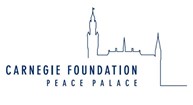 International Court of Justice 

Haagse Conferentie voor Internationaal Recht (HCCH)[Hague Conference on Private International Law / Conférence de La Haye de droit international privé]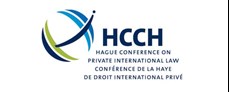 Clingendael Netherlands Institute of International Relations