2006
Fire in the T.M.C. Asser Instituut
In May 2006 the Institute was confronted with a serious setback in its operations due to a fire in the server room in the cellar of the building.
In the night of 4 to 5 May the air conditioner in the server room caught fire. Due to a very swift reaction of the Hague fire brigade the fire was contained to only that area of the building. The next morning, however, the damage proved to be considerable having an impact on the entire organisation for a couple of weeks.
As illustrated by the photos both the server and the network infrastructure suffered fundamental and structural damage. Over the next seven weeks a group of very dedicated persons and (partner) organisations worked very hard to clean up and repair the damage to the building, to install a new LAN and telephone (cable) network and reconfigure and reinstall the entire ICT infrastructure.
Whilst these necessary repairs were carried out the staff members kept on working under sometimes challenging conditions ensuring that the Institute would meet its deadlines and keep its commitments.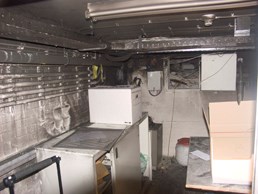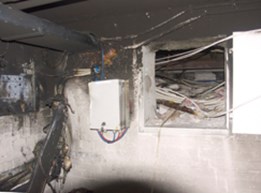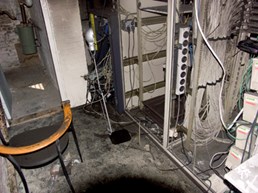 Chaos after the fire (Photos: Asser archives)