2009
Launch of CLEER
The Centre for the Law of EU External Relations (CLEER) was launched early 2009. This inter-university research programme combines and channels the Institute's and universities' research activities in the field of the European Union's external relations law.
CLEER is the first authoritative research interface between academia and practice in the field in this area. Its ambition is to stimulate excellence in research, reflection and teaching EU external relations studies in higher education institutions in and outside the Union, and to promote innovative solutions to practical challenges to the external dimension of the EU's legal order.
Hosted by the T.M.C. Asser Instituut, CLEER serves as a forum for debate on the role of the EU in the world, but its most distinguishing feature lies in its in-house research capacity, complemented by a growing network of partner institutions. Its Board is composed of professorial representatives of the Erasmus University Rotterdam, Leiden University, Maastricht University, the University of Twente, and the Asser Institute [More]. At the end of 2009, the existing management structure was widened to include representatives (EU external relations law experts) of all Dutch law faculties which hitherto did not participate. In the following years representatives of foreign universities became partners too. It makes a good example of the Asser Institute's function as community organiser (see also 2003).
 
CLEER's inaugural conference was organised on 2 October 2009 at the premises of the Asser Institute. The topic of the conference "The EU in the world: external relations law for the 21st century", fell squarely within the conceptual programme of its inter-faculty research cooperation. The launch of the new research centre received extra momentum with the reference to Professor Hillion's CLEER Working Paper No. 2009/2 in the Opinion of an Advocate General at the Court of Justice of the EU [for details see below]. This working paper was one of six published already in 2009.
Twice CLEER received a grant under the European Commission's Lifelong Learning Jean Monnet programme (see: http://ec.europa.eu/education/opportunities/jean-monnet/institutions_en.htm and http://bookshop.europa.eu/en/thinking-about-europe-pbNC0413015/).
For an overview of CLEER's network, activities and publications see: http://www.cleer.eu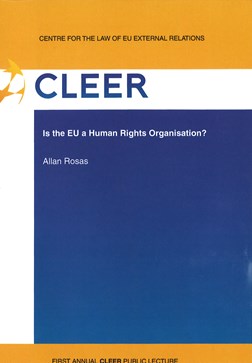 Front cover of a CLEER Working Paper
Case C-246/07, Commission v. Sweden, Opinion of Advocate General Poaires Maduro delivered on 1 October 2009. The reference to CLEER Working Paper No. 2009/2 can be found in note 15.
The case relates to the duty of loyal cooperation between the Community and Member States, in particular in obligations under international agreements.