2012
Start of Matra PATROL trainings at the T.M.C. Asser Instituut
 
In 2012 the Asser Institute started with a series of pre-accession trainings pertaining to the Rule of Law financed by the Dutch Ministry of Foreign Affairs through its Matra programme for south-eastern European countries with EU accession prospects, viz., Albania, Bosnia-Herzegovina, Kosovo, Macedonia, Montenegro, Serbia and Turkey ). The Asser Institute formed a consortium with Ecorys and the Hague Academy for Local Government (HALG) for this 4 year programme.
The various trainings pertain to the following subjects:
• Rule of law,
• Administration of justice,
• European public procurement (in cooperation with Ecorys),
• Alternative dispute resolution,
• Decentralisation (in cooperation with HALG),
• Public finance management (with Ecorys),
• Access to justice,
• Integrity of civil servants (with HALG),
• Quality, implementation and enforcement of legislation.
To date 24 training courses have been given for a total of 525 participants. The consortium has agreed to train up to 800 participants in these areas before the end of 2015.
In order to harness the goodwill and willing network of professionals in the region and to retain and build on the success to date of the Matra Patrol programme, the Ministry for Foreign Affairs has furthermore commissioned the Asser Institute in 2014 to deliver a series of activities in the region that will strengthen the alumni ties and promote the bilateral interaction with the Netherlands, under the name of "Matra Patrol in the Region".
In 2012 the Asser Institute was awarded a project with similar objectives in the area of Administration of Justice. In 2014 the Rijksdienst voor Ondernemend Nederland [Netherlands Enterprise Agency] once again finances the Matra South programme for Arab countries on "Supporting democratic transition in the Arab region", which aims at stimulating and supporting the democratic transition in the Arab region and at strengthening relations between the Netherlands and the target countries Egypt, Morocco, Tunisia, Libya and Jordan.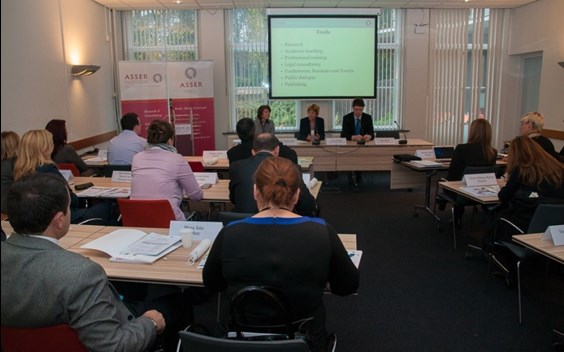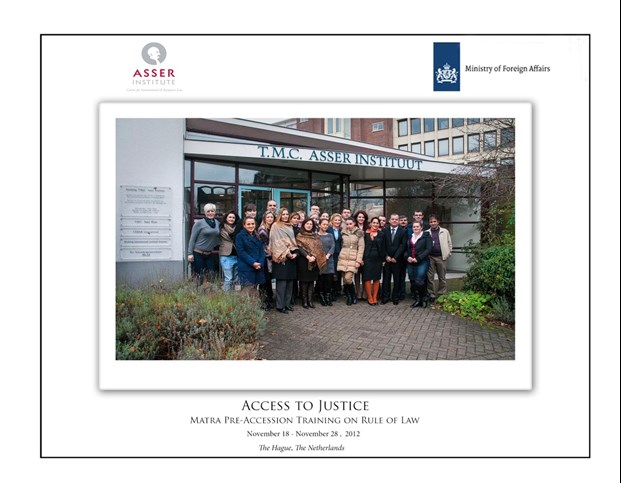 Course in 2012
(Photos: Asser archives)