Getting to a responsible garment industry
Published 3 July 2017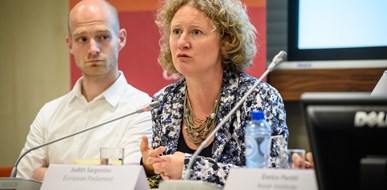 The key challenge in governing transnational phenomena like supply chains in the garment industry is to reach beyond national borders and territoriality. However, this also often presents the risk of imposing external, neocolonial approaches which could ultimately be counterproductive in a particular local context. Therefore, it is important to focus on the local level, to involve local actors, and to elaborate local solutions which are taylored to their context of operation.
Several participant agreed on this approach during a roundtable on sustainability in the garment industry on 29 June 2017 at the T.M.C. Asser Instituut. The roundtable brought together key practitioners from international organisations, EU institutions, the Dutch government, non-governmental organisations, and the business world. The speakers discussed the evolution of the regulatory efforts to curtail human rights violations in global supply chain by means of the establishment of clear, precise and enforceable commitments for the business community.
Voluntary vs. Binding
Judith Sargentini, member of the European Parliament (GroenLinks), opened the roundtable with a keynote presentation. She argued that voluntary initiatives can tame the negative effects of transnational supply chains in the garment industry, but could also have a chilling effect on public regulation and risk delaying a more effective public response. Therefore, in her opinion, binding instruments are to be preferred. Other speakers were convinced that it is just the opposite. In their view, voluntary schemes are the most effective in tackling violations of human rights in the garment industry.
Doing Business Right
The roundtable was the launch of the new Doing Business Right project at the Asser Institute. The T.M.C. Asser Instituut carries out research on developments in international and European law and its potential for serving the cultivation of trust and respect in the global, regional, national and local societies in which the law operates. 'Doing Business Right' is part of the broader research strand 'Advancing Public Interests in International and European Law'.
Read the report on "Can better regulation support sustainability in the garment industry?" 
Visit and contribute to the Doing Business Right Blog.