Human Rights Begin in Small Places, Close to Home
Published 10 December 2017
By Christophe Paulussen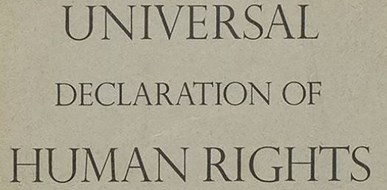 Introduction
Every year, the World celebrates Human Rights Day on 10 December – the day the Universal Declaration of Human Rights was adopted in 1948, now almost 70 years ago. The Preamble to this milestone document, which paved the way for other international human rights instruments such as the International Covenant on Civil and Political Rights and the International Covenant on Economic, Social and Cultural Rights, notes that "recognition of the inherent dignity and of the equal and inalienable rights of all members of the human family is the foundation of freedom, justice and peace in the world". How can these very true words be realised in practice? Eleanor Roosevelt, the Chair of the Declaration's Drafting Committee, stated in that respect:
"Where […] do universal human rights begin? In small places, close to home -- so close and so small that they cannot be seen on any maps of the world. [...] Unless these rights have meaning there, they have little meaning anywhere. Without concerted citizen action to uphold them close to home, we shall look in vain for progress in the larger world."
Reasons for Concern
These – again very true – words remind us of the responsibility each actor in society has to play to ensure the equal dignity and worth of every person. And whereas considerable progress has been made since 1948, there are also reasons for concern. Indeed, it can be argued that we are witnessing a time in which human rights are increasingly put on the back seat. For example, in the context of the fight against terrorism, the UN High Commissioner for Human Rights Zeid Ra'ad Al Hussein, noted:
"I come to you at what may prove to be a turning-point in our young and troubled century. There is real danger that in their reaction to extremist violence, opinion-leaders and decision-makers will lose their grasp of the deeper principles that underpin the system for global security which States built 70 years ago to ward off the horror of war. […] Terrorist attacks cannot destroy the values on which our societies are grounded – but laws and policies can."
He therefore encouraged the world to stand up for human rights: 
 "Because we are now in a world being thrown off balance by lies and deceit, we need the certainty and security of its universal laws. We need the anchor of principle, steeped in the lessons of human experience. Ultimately, this is not only about people's intrinsic rights, it could well be about their lives."
Role of Independent and Policy-Relevant Research and knowledge dissemination activities
Also the T.M.C. Asser Instituut and it publishing house T.M.C. Asser Press have a responsibility here, and we happily and proudly take it, through our independent fundamental and policy-relevant research and knowledge dissemination activities on European and international law, including human rights law. The importance of conducting rigorous, critical and high-quality independent research – and disseminating and distributing such knowledge as widely as possible – cannot be stressed enough in the current "world being thrown off balance by lies and deceit" – a world in which fake news, propaganda or utter lies not supported by any (empirical) evidence increasingly seem to become the new normal.
Examples of our activities in the field of human rights law are thrive and include, for example, the establishment of our research strand on 'Human Dignity and Human Security in International and European Law', the 'Doing Business Right' blog, our upcoming conference on 'Human Dignity and Human Security in Times of Terrorism', our Shelter City Fellowship Programme, the coordination of the Netherlands Network for Human Rights Research and the publication of books such as 'Protecting the Rights of Families and Children in a Changing World', 'The Prevention of Gross Human Rights Violations Under International Human Rights Law' and 'International Criminal Tribunals and Human Rights Law - Adherence and Contextualization' – to just name a few.
Invest in a Better Understanding of Human Rights
Through these activities and many other, the T.M.C. Asser Instituut and T.M.C. Asser Press will continue to invest in a better understanding of human rights and the "deeper principles that underpin the system for global security which States built 70 years ago to ward off the horror of war." As Zeid Ra'ad Al Hussein has argued so eloquently, there is not a more important time to do so than now.