"Law can play a Major Role in responding to Terrorism"
Published 12 September 2017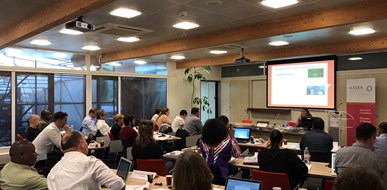 More than 30 participants from all over the world and with diverse backgrounds took part in a weeklong training on countering terrorism in The Hague. The Seventh Advanced Summer Programme on Countering Terrorism: Legal Challenges and Dilemmas, co-organised by Asser and the International Centre for Counter-Terrorism (ICCT), took place from 28 August to 1 September 2017.
Legal Aspects of Counter-Terrorism
The programme, focused on legal aspects of counter-terrorism, addressed preventive and repressive approaches to counter-terrorism, as well as military aspects. Topics included:
The definition of terrorism
The protection of human rights when countering terrorism
The use of drones in countering terrorism
Strategies to counter violent extremism and radicalisation
Police and judicial cooperation in countering terrorism
The use of administrative measures in counter-terrorism
The prosecution of foreign terrorist fighters
Interactive Format
The lectures followed an interactive format leading to lively exchanges, and were delivered by high-level speakers including Professor Helen Duffy from Leiden University, Judge David Baragwanath of the Special Tribunal For Lebanon (STL), Professor Richard English from Queen's University in Belfast, Dr Bibi van Ginkel from Clingendael Institute, and Dr Alastair Reed from ICCT. 
Discussing Legal Challenges is of dire Importance
The topic of countering terrorism and in particular the legal challenges and dilemmas that it raises is of dire importance now, given the persistent and evolving threat of terrorist attacks, says Judge David Baragwanath. "The responsibility of responding to it is one that the law can and should play a major role in, and its potential has not been realised." 
Special Outreach
Judge Baragwanath says that this course brings professional from across the world. A participant from Nigeria expressed the benefits and importance of this program to empower his work. "Lectures on the protection of human rights when countering terrorism are very helpful to us in Nigeria, as we take measures to contain the Boko Haram scourge in accordance with Nigeria's obligations under international law. This would enable us to continue to pursue the campaign lawfully, thereby winning both local and international support."

Practitioners and Policy-makers
The summer programme also constituted a great opportunity for participants with diverse backgrounds, including practitioners and policy-makers, to network and exchange experiences and perspectives.
Read the full report on the Advanced Summer Programme on Countering Terrorism here.