Professor Michiel Scheltema receives ' Medal of Appreciation' in recognition of his long-standing contribution as Chairman of the T.M.C. Asser Board
Published 28 April 2015
On Thursday, 23 April 2015, Professor Michiel Scheltema was honoured with a 'medal of appreciation' for both his longstanding service as Chairman of the Board of the T.M.C. Asser Instituut as well as for the academic contribution he made to the institute's research activities. Professor Scheltema was Chairman of the Asser Board for 16 years, from 1998 – 2014.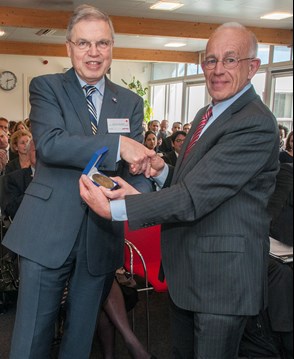 The current President of the T.M.C. Asser Instituut, Professor Dr. Ernst Hirsch Ballin,  addressed Professor Scheltema and thanked him for the substantial role he played in realising the successful inter-university research cooperation where Asser plays a significant role. The Centre for the Law of EU External Relations (CLEER) and the IHL/ICL interuniversity platform are vibrant examples of the results of his vision and leadership.

With much creativity, energy and authority, he has successfully steered Asser through the recession years (2009 onwards) and oversaw the establishment of  a new one-tier Board making Asser fit for its challenging future as an international, inter-university institute.

This tribute to Professor Scheltema took place at the Asser Institute during the institute's 50th anniversary Symposium on "Better Regulation in the EU revisited. Benefiting Business and Citizens".