Rugby and competition law: recent cases and potential future issues
Published 25 September 2015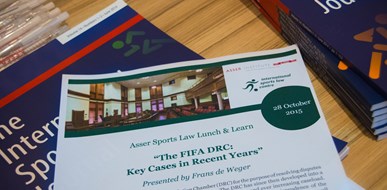 In the spirit of the Rugby World Cup 2015 taking place in England and Wales, the Asser International Sports Law Centre devoted a 'Lunch & Learn' lecture on the intersection between "Rugby and competition law: recent cases and potential future issues". On 23 September the Asser Institute had the pleasure of welcoming Mr. Grégory Basnier, a member of the Paris Bar with a solid background in regulatory affairs and European competition law in the sport sector.
Recent developments on the rugby legal arena were discussed, such as the pending case before the French competition authority concerning the media rights of the French rugby 1st division championship (TOP 14). Attention was raised with regard to existing legal lacunas, for instance what constitutes "premium content" and whether sublicensing is compatible with the norms established under the European competition law regime. Furthermore, the Toulon complaint before the European Commission against the salary cap provoked a wave of reactions among all participants and a comparison with the practice adopted in England and New Zealand was made. Mr. Basnier also provided an update on the home grown player rules imposed by the French professional rugby league and assessed them in the long run against the principles of proportionality and legitimacy.
After the presentation participants shared their views on these ongoing legal issues and addressed points for future improvement in the field of sport law in the light of EU competition rules and public demands. The controversy surrounding the release of international rugby players was also a hotly disputed point of discussion, which needs regulation in the future for the globalisation of rugby as a sport.
If you wish to find out about the upcoming lectures, events and the Summer Programme organised by the Asser International Sports Law Centre, we encourage you to visit our website and blog, subscribe to our newsletter or follow us on Twitter and Facebook.