SCL Lecture: Launch of the book Victim Participation in International Justice – Practitioners' Guide: "Justice means more than bringing perpetrators to the Court"
Published 18 October 2017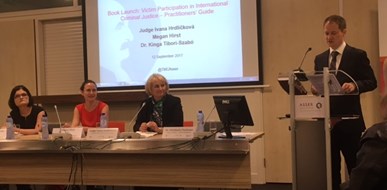 With these words Judge Ivana Hrdličková, the President of the Special Tribunal for Lebanon (STL), began her keynote address at the book launch of Victim Participation in International Justice – Practitioners' Guide. She then outlined the international criminal law paradox by explaining that international criminal tribunals have been created specifically to respond to the pain of victims, but that in the beginning, victims have been left outside of the courtroom. Judge Hrdličková called for improvement regarding the sources of compensation funds, the outreach efforts to engage (more) victims, and the pace of international tribunals.
Other speakers on this event were Dr. Christophe Paulussen and the editors of the book Dr. Kinga Tibori-Szabó, currently working for the Kosovo Specialist Chambers and Megan Hirst, barrister at Doughty Street Chambers in London.
The book was launched during the Supranational Criminal Law lecture of 12 September 2017, co-organised by the International Humanitarian and Criminal Law (IHCL) Platform and T.M.C. Asser Press.
 Read the full report of SCL Lecture of 12 September 2017