Sixth annual PhD Day
Published 26 June 2017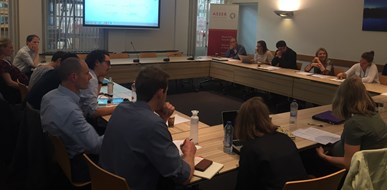 On 26 June 2017, the International Humanitarian and Criminal Law (IHCL) Platform organised its sixth annual PhD Day at the T.M.C. Asser Instituut, where PhD researchers on international humanitarian law and international criminal law can present their research and receive feedback.
Presentations were provided by:
Anna Andersson (Norwegian Centre for Human Rights): 'Law enforcement in armed conflict';
Floris Tan (Leiden University): 'The Duty to Investigate Human Rights Violations during Armed Conflicts: a European Perspective';
Mohammad Hadi Zakerhossein (Tilburg University): 'Missing Aspects of the Preliminary Examination at the International Criminal Court';
Eva Whitehead (VU University Amsterdam): 'The Soldier's Duty to Disobey Illegal Orders';
Yudan Tan (Leiden University): 'The Rome Statute of the International Criminal Court as Evidence of Customary International Law: Selected Provisions on Crimes, Liability and Immunity';
Olivia Herman (Institute for International Law, KU Leuven): 'Attributing responsibility: A study on victim reparations by armed opposition groups'.
For more information about the Platform, please visit the IHCL Platform website or contact its coordinator Christophe Paulussen.