Sports Law Conference "The Wilhelmshaven case: Challenging FIFA and the CAS"
Published 7 November 2016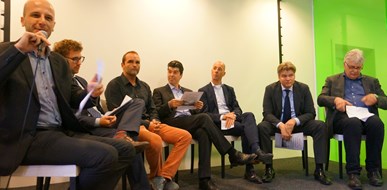 The Dutch Federation of Professional Football Clubs (FBO), the Asser International Sports Law Centre and T.M.C. Asser Press hosted an International Sports Law Conference on "The Wilhelmshaven case: Challenging FIFA and the CAS".

To kick-start the event, Mr Frank Bakker, on behalf of T.M.C. Asser Press, ceremoniously presented Frans de Weger the first copy of his book "The Jurisprudence of the FIFA Dispute Resolution Chamber". This second edition is a comprehensive guide to the FIFA DRC and its jurisprudence. Since its establishment in 2001, the DRC has developed into an influential dispute resolution body for the football community at large, with an impressive jurisprudence and an ever-increasing caseload. The book covers all the relevant decisions of the DRC from 2001 until 2016.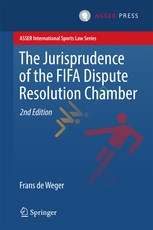 The conference aimed at providing a complete review of the SV Wilhelmshaven case and its impact on the FIFA transfer system. Three experts in the field presented before a large group of practitioners. First, Frans de Weger outlined the case's procedural steps inside FIFA and at the CAS. Thereafter, Jan Orth sketched the German decisions rendered by the LG Bremen, OLG Bremen, and the BGH. Finally, Antoine Duval offered a general take on the case and on the issues it raises from the perspective of EU law and international sports arbitration.

Following the break, a high-level roundtable discussion, moderated by Ben Van Rompuy (Leiden University), took place. Participants, Wil van Megen (FIFPro), Prof. Frank Hendrickx (KU Leuven), Jürgen Scholz, (SV Wilhelmshaven's lawyer), Joris van Benthem (Feyenoord), Mark Boetekees (KNVB), and Daan de Jong (ECA), voiced their (sometimes conflicting) points of view on the case. Furthermore, general topics related to the FIFA transfer system such as the necessity of training compensation, transfer fees and the termination of contracts were also debated. Finally, the attendants had the opportunity to ask questions to the panellists.

If you wish to find out more about the upcoming lectures organised by the Asser International Sports Law Centre, we encourage you to visit our website and blog, subscribe to our newsletter or follow us on Twitter and Facebook.