Successful Launch of the Netherlands Network for Human Rights Research (NNHRR)
Published 13 November 2017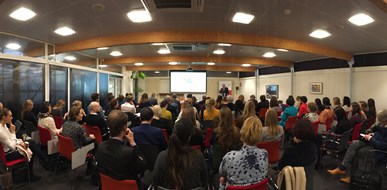 More than 100 guests gathered at the T.M.C. Asser Instituut on Friday 10 November to welcome the launch of the Netherlands Network for Human Rights Research (NNHRR). A continuation of the long-existing Netherlands School of Human Rights Research, the Network unfolded a new chapter for human rights research in The Netherlands.
Friday's event was met with great enthusiasm from PhD researchers, professors, and practitioners from different corners of the country. It kicked off with a PhD session where more than 30 PhD researchers from various Dutch universities met, connected, and exchanged with each other, followed by a Masterclass lecture delivered by Prof. Dr. Surya Subedi, Professor of International Law at the University of Leeds and former UN Special Rapporteur for Human Rights in Cambodia.
Following the PhD session, Prof. Dr. Ernst Hirsch Ballin, President of the Board of the Asser Institute, delivered a warm welcome to all the guests, kicking off the official launch of the Network. Prof. Dr. Yvonne Donders, Chair of the NNHRR Steering Committee, introduced the Network and emphasized its importance in relation to current trends and challenges faced by the human rights agenda, both globally and within The Netherlands. The launch reached its highlight when Prof. Dr. Subedi delivered his lecture on "The Effectiveness of the UN Human Rights System: Reform and the Judicialisation of Human Rights". The thought-provoking lecture sparked heated exchange of questions and discussions from the audience and left much food for thought.
Connecting Research and Practice
The guests carried forward their exchange during the reception through passionate discussions on current affairs, human rights, international law, and research projects. The success of the event itself was a manifestation of the role that the NNHRR could play in connecting researchers with each other and in connecting research with practice. The Asser Institute is honoured to have hosted this launch event, as well as to continue its role as a facilitator among universities, academics, and practitioners through the coordination and administration of the NNHRR.