The End of Conflict Minerals on the EU Market?
Published 15 March 2017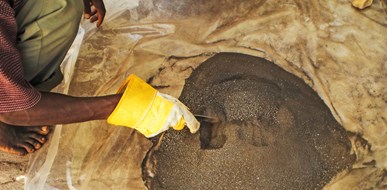 Minerals hold great potential for poverty alleviation for resource-rich developing countries. However, their presence can also fuel armed conflicts and undermine sustainable development, good governance and the rule of law. In a new Policy Brief, Asser researcher Steffen van der Velde analyses the EU's response to this particular problem through the Conflict Minerals Regulation. Van der Velde concludes that the new regulation is a meaningful step forward, but is probably not the end of the struggle to clean up the mineral supply chains with links to the EU Internal Market.
The new framework
The problems related to so-called 'conflict minerals' have been recognised by the UN, the OECD and numerous NGOs, and moved US Congress to include a special section in the Dodd Frank Act aimed at banning the use of these materials throughout the supply chain of US listed companies. The Conflict Minerals Regulation, aims to set up a system for supply chain due diligence in order to curtail opportunities for armed groups to trade in tin, tantalum, tungsten (the "3Ts"), their ores, and gold. As of 1 January 2021, this regulatory framework should enhance transparency and certainty regarding supply of European importers and global smelters and refiners from conflict zones and areas where a risk of armed confrontation or human rights violations exists.
Challenges ahead
In his policy brief, Van der Velde discusses the legislative process that preceded the adoption of the Regulation. He also elaborates on the potential future inclusion of more types of minerals within its scope. Van der Velde concludes by highlighting future developments relevant for the effectiveness and success of the EU's Conflict Minerals Regulation, such as the role of companies that use components containing the covered materials in their products, the potential temporary suspension of the special section in the Dodd Frank Act and the need for expansion of mandatory due diligence to other sectors.
Read the full Policy Paper on Conflict Minerals on the EU Market.