Tiptoeing to TTIP: What Kind of Agreement for What Kind of Partnership?
Published 22 September 2015
In light of the ongoing negotiations for a Transatlantic Trade and Investment Partnership (TTIP), the T.M.C. Asser Instituut, in cooperation with the Amsterdam Center for International Law, organised a Roundtable designed to bring to the fore the main contentious issues surrounding the current debate: regulatory cooperation and the Investor-State Dispute Settlement (ISDS) mechanism. The event started off with a keynote speech of Mr. Hiddo Houben (DG Trade), deputy chief negotiator for TTIP. The roundtable was divided into two panels. The first one, chaired by Mr. Ronald Roosdorp from the Netherlands Ministry of Foreign Affairs, included panellists such as Dr. Wybe Douma, Dr. Joana Mendes and Dr. Davor Jancic who shared their insights on various aspects of regulatory cooperation, ranging from environmental and consumer protection standards to the impact of regulatory cooperation on EU law-making. The second session, chaired by Prof. Pieter Jan Kuijper from the University of Amsterdam, addressed the intended inclusion of an ISDS in the TTIP. In particular, the recent proposal by the European Commission on Investment Protection and Resolution of Investment Disputes and Investment Court System in TTIP added to the thematic focus of this panel and was frequently discussed in the debate. Speeches were contributed by Dr. Ingo Venzke and Prof. Stephan Schill, both from the University of Amsterdam, as well as Dr. Luca Pantaleo, T.M.C. Asser Instituut. The panel discussed how investment arbitration can relate to the principles of democracy and legitimacy, and what are the policy and legal reasons justifying the inclusion of an ISDS. The sessions were concluded by Prof. Pieter Jan Kuijper, formerly Director of the External Relations and International Trade team of the Legal Service of the European Commission, who gave an insight to both the problems as well as the opportunities of the TTIP. While the discussion took place under the Chatham House rules, the papers presented in the two panels will be collected and published under the CLEER Papers series.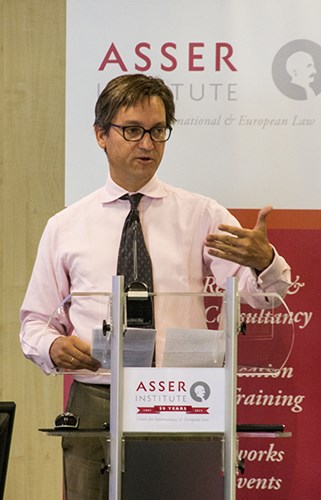 With this event the Asser Instituut, being uniquely located at the crossroads of legal practice, policy deliberations and academic debate, brought together participants with high-level expertise from various backgrounds, in order to contribute to the current policy debate. Participants included academics and policy makers, as well as representative of the civil society, who assessed the political, legal and institutional long-term consequences relating to the conclusion of TTIP.
Keynote speech by Mr. Hiddo Houben, Deputy chief negotiator for TTIP (DG Trade)