"War makes murderers out of civilised people"
Published 19 May 2017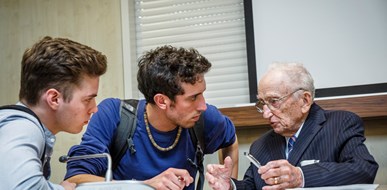 "We need to stop war making as it makes murderers out of civilised people. It is war itself that must be prevented, and the only way to do that is to change the hearts and minds of the people", Benjamin Ferencz, the only surviving Nuremberg war crimes prosecutor, said at the end of his lecture at the T.M.C. Asser Instituut on 15 May 2017.

Never give up
A lot of young students attended his lecture. To them, Ferencz said that for centuries war has been glorified but that today, the victims of war are all innocent civilians. He appealed to the young people, to pick up the torch against war making and carry it forward. "It is your world, not mine anymore", he concluded. "You need to have the courage to compromise, and you need the courage not to be discouraged. Never give up!"
International criminal justice
Ferencz was Chief Prosecutor for the United States in the Einsatzgruppen case, where 22 defendants were convicted of the mass murder of over a million people. It was the biggest murder trial in history. He was 27 years old and it was his first case. Inspired by his work in Nuremberg, he dedicated the rest of his life to the development of international criminal justice. He became a strong supporter of the International Criminal Court, where he was asked by the then Prosecutor, Mr. Moreno-Ocampo, to give a closing statement in the Court's very first case, against Thomas Lubanga Dyilo. Ferencz was 91 years old and it was his second case.
Lecture series
The lecture took place in the context of the Supranational Criminal Law Lecture Series and was co-organised by the International Humanitarian and Criminal Law Platform. Ferencz was in The Hague to attend a ceremony to name of path close to the Peace Palace after him.
Read the full report of the event or watch the video of the lecture of Ben Ferencz.