Wrap Up: Asser-OPCW Programme on WMD Disarmament & Non-Proliferation
Published 11 October 2017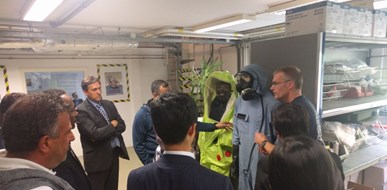 Recommended Programme 
'To be recommended for everyone working on non-proliferation and disarmament of Weapons of Mass Destruction', one participant summarized his experiences during the 8th WMD Summer Programme which the Asser Institute organized in close cooperation with the Organisation for the Prohibition of Chemical Weapons (OPCW) from 4 to 8 September 2017.

Watch this video to get an overview of the summer programme
Learning Outcomes 
During an intensive programme the 24 participants learned about nuclear, biological and chemical weapons from various perspectives. Interactive presentations were given by diplomats, academics, and activists, talking from legal, political and scientific perspectives. Field visits to a nuclear research reactor, the OPCW chemical weapons laboratory and the OPCW headquarters were included in the programme, as well as a simulation exercise on export controls. 
High-level Keynote Speakers 
The programme was opened with a keynote by the Director-General of the OPCW and closed with a ceremony during which the participants received their certificate out of the hands of the Deputy Director-General. The cooperation between the Asser Institute and the OPCW, combined with some grants from the Netherlands Ministry of Foreign Affairs to enable participation from less developed countries, has proven a success for many years already. Participants, mainly young professionals at the start of a career in non-proliferation and disarmament, came from all over the world to learn as well as to broaden their network.