Flyer T.M.C. Asser Instituut
T.M.C. Asser (1838 - 1913)
Tobias Michael Carel Asser was a scion of a prominent Dutch family which had produced a series of distinguished lawyers. He was the most eminent, having been awarded the Nobel Peace Prize in 1911 together with the Austrian journalist and pacifist Alfred H. Fried, primarily for his work in founding the Permanent Court of Arbitration.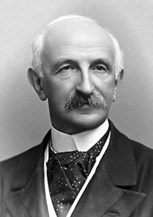 As a young lawyer, Asser had already become well-known for his sharp and clear line of argument, a gift with which he internationally distinguished himself as a lawyer, professor, diplomat and state advisor. He was particularly dedicated to solving international disputes in a pragmatic way, irrespective of whether these were between countries, organisations, businesses or people.
Tobias Asser was co-founder of the Institut de Droit International - founded in 1873 in Gent in Belgium - which was awarded the Nobel Peace Prize in 1904. Around the turn of the century, Asser became closely involved in the renowned peace and disarmament conferences. Because of his insistent and expert involvement in these conferences he became the icon of the peace movement in the Netherlands and Germany. Most of the money Asser received as a winner of the Nobel Peace Prize was devoted to founding The Hague Academy of International Law. It was Asser's wish that this should be accommodated in the Peace Palace and although he himself died shortly before the official opening of the Peace Palace his wish was posthumously respected ten years later.
More information about the life and work of T.M.C. Asser is available. Please contact Mr. Dick Blom Telephone: 070-34.20.377 or by e-mail: D.Blom@asser.nl