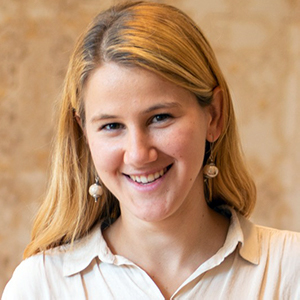 Klaudia Klonowska BSc LL.M.
Junior Researcher

Department:

Research Department

Main fields of interest:

Counter-Terrorism

International Humanitarian Law

International Technology Law

Military Artificial Intelligence
Profile
Klaudia is a Junior Researcher in Public International Law within the Research Strand Human Dignity and Human Security. Her research focuses on the nexus of technology with international humanitarian and human rights law.
At Asser, Klaudia coordinates two Global Counter-Terrorism Forum initiatives on maritime security and terrorist travel, and the terrorist watchlisting practices. Additionally, she conducts her research in the context of the project titled Designing International Law and Ethics into Military AI (DILEMA).
Prior to joining Asser Institute, Klaudia worked at the Hague Centre for Strategic Studies (HCSS). Her research was centered around two topics: the governance of Robotic and Autonomous Systems (RAS) within the military context and the military strategic planning for behaviour-oriented operations. She is an author of three HCSS publications. Klaudia also worked extensively at Amnesty International. There, she deep-dived into the issue of surveillance technology exports and the European Union fundamental rights. Klaudia holds a BSc in International Relations and Law from Amsterdam University College and a LL.M. in International Technology Law at Vrije Universiteit van Amsterdam.
During the 73rd General Assembly of the United Nations, Klaudia represented and spoke on behalf of the Polish youth in her position as the UN Youth Delegate of Poland. In this position, she advocated for greater youth participation and representation in governmental decision-making. Klaudia is fluent in English, Polish, Spanish, and Chinese.