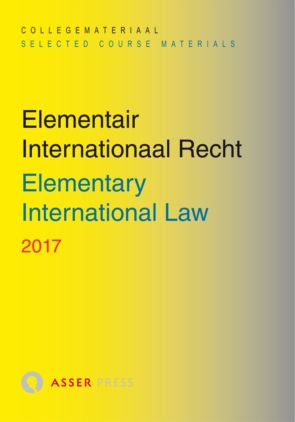 Elementair Internationaal Recht 2017/Elementary International Law 2017
July 2017
Order
Details
Published:

July 2017

Pages:

816 p.

Publisher:

T.M.C. ASSER PRESS

Distributor:

T.M.C. Asser Press
ISBN:

978-90-6704-353-3

Price:

€ 20.00
Aanleiding tot het samenstellen van deze bundel studiemateriaal is het feit dat in nagenoeg alle Nederlandse juridische faculteiten het vak 'Elementair Internationaal Recht' verplicht is gesteld. Dit vak is zowel een inleiding tot het algemene internationaal recht als een inleiding tot het recht van de internationale organisaties. De bundel bevat dan ook een ruime selectie volkenrechtelijk basismateriaal. Daarnaast zijn die bepalingen van het Nederlandse recht opgenomen, die van groot belang zijn voor de doorwerking en de toepassing van het internationale recht in de Nederlandse rechtsorde.
De bundel bevat teksten in de Nederlandse en Engelse taal.
Verkrijgbaar bij T.M.C. Asser Press via de order button en bij de erkende (internet) boekhandel.
The reason for compiling this collection of study material is the fact that in almost all Dutch law faculties the subject 'Elementary International Law' has been made compulsory. This subject is both an introduction to international law in general and an introduction to the law of international organisations. The collection therefore contains an ample selection of basic material on humanitarian law. Moreover, also included are the provisions of Dutch law that are of great importance to the impact and applicability of international law within the legal system of the Netherlands.
The collection contains texts in both Dutch and English.
Available from T.M.C. Asser Press via the order button or at your Dutch/Belgian (internet) bookstore.
Download more information


Inhoudsopgave / Table of Contents