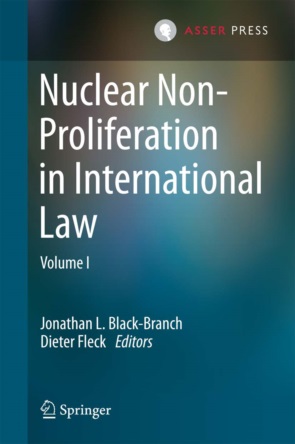 Nuclear Non-Proliferation in International Law - Volume I
August 2014
Order
Details
Published:

August 2014

Pages:

XII, 259 p.

Publisher:

T.M.C. ASSER PRESS

Distributor:

Springer
With a Foreword by Mohamed ElBaradei, former Director of the International Atomic Energy Agency

Nuclear Non-Proliferation in International Law discusses the legal interpretation and implementation of the three pillars of the Treaty on the Non-Proliferation of Nuclear Weapons, 1968, regarding the non-proliferation of nuclear weapons, the right to develop research in as well as the production and use of nuclear energy for peaceful purposes, and issues relating to nuclear disarmament.
It examines the status of international law regarding nuclear capacity, considering competing legal approaches to the development of nuclear technology, non-proliferation, disarmament and regulating nuclear weapons within a contemporary international context.
With further volumes to follow, this book provides a combination of scholarly research articles and critical commentaries on relevant treaty law, customary practice and legal case developments, thus offering an academic analysis and information on practical legal and diplomatic developments both globally and regionally. It sets a basis for a further constructive discourse on the topic at both national and international levels.
Available for download

Frontmatter, incl. Table of Contents