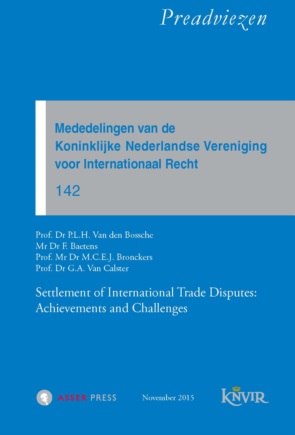 Mededelingen van de Koninklijke Nederlandse Vereniging voor Internationaal Recht – Nr. 142 - Settlement of International Trade Disputes: Achievements and Challenges - KNVIR Preadviezen
October 2015
Order
Details
Published:

October 2015

Pages:

iv + 127 p.

Publisher:

T.M.C. ASSER PRESS

Distributor:

T.M.C. Asser Press
ISBN:

978-90-6704-350-2

Price:

€ 30.00
Met Preadviezen van:
P.L.H. Van den Bossche
The WTO at 20: A Glass Half Full, Half Empty … or Broken?
F. Baetens
Investment Chapters Including Dispute Settlement Mechanisms in Bilateral Trade Agreements
M.C.E.J. Bronckers
Is Investor-State Dispute Settlement (ISDS) Superior to Litigation before Domestic Courts?
An EU View on Bilateral Trade Agreements
G.A. Van Calster
Multa, Multi et Distincta
The Adjudication of International Trade Disputes Seen from a Conflict of Laws Perspective
Verkrijgbaar bij T.M.C. Asser Press via de order button hierboven en bij de erkende (internet) boekhandel.