Editor's note: This short book review will be published in a different format in the International Sports Law Journal, due to its timeliness we decided to reproduce it here.
Reforming FIFA, or Not
Antoine Duval

Book Review: Mark Pieth (ed.), Reforming FIFA, Dike Verlag, St. Gallen, 2014, 28.00 CHF, p.178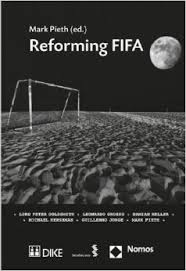 This book looks back at the work of the Independence Governance Committee (IGC). This Committee, constituted in 2011, had as primary objective to drive a reform process of FIFA initiated by its President Sepp Blatter. After ordering from the Swiss anti-corruption expert Mark Pieth, a report on the state of FIFA's governance, FIFA decided to mandate him with the leadership of a consulting body composed of a mix of independent experts and football insiders, which would be accompanying and supervising the internal reform process of FIFA. The IGC was officially dissolved at the end of 2013, after completing its mandate. The book is composed of eight chapters, written by former members of the IGC, including former chairman Mark Pieth. In addition to the chapters, it includes the different reports (available here, here and here) submitted by the IGC to FIFA across the years. In the words of Pieth, this account is "fascinating because it gives a hands-on, realistic perspective of the concrete efforts, the achievements and the remaining challenges in the struggle for the reform of this organization [FIFA], avoiding the usual glorification or vilification."[1] This review will first summarize the core of the account of the FIFA reform process provided by the book, before critically engaging with the outcome of the process and outlining the deficiencies that culminated on 29 May 2015 with the re-election of Sepp Blatter as FIFA president.More...