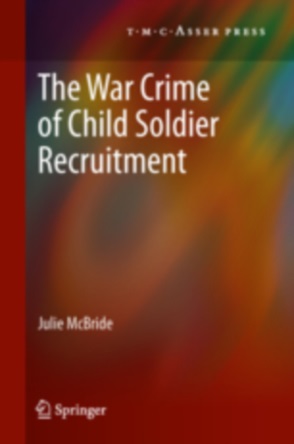 The War Crime of Child Soldier Recruitment
2014
Order
Details
Published:

2014

Pages:

xxv + 216 pp.

Publisher:

T.M.C. ASSER PRESS

Distributor:

Springer
The practice of using children to participate in conflict has become a defining characteristic of 21st century warfare and is the most recent addition to the canon of international war crimes. This book follows the development of this crime of recruiting, conscripting or using children for participation in armed conflict, from human rights principle to fully fledged war crime, prosecuted at the International Criminal Court.
The background and reasons for the growing use of children in armed conflict are analysed, before discussing the origins of the crime in international humanitarian law and human rights law treaties, including the Convention on the Rights of the Child and its Optional Protocol. Specific attention is paid to the jurisprudence of the Special Court for Sierra Leone and the International Criminal Court in developing and expanding the elements of the crime, the modes of ascribing liability to perpetrators and the defences of mistake and negligence. The question of how the courts addressed issues of cultural sensitivity, notably in terms of the liability of children, is also addressed.
The book is a useful guide for practitioners dealing with the crime: the available defences and the ICC's prosecutorial strategy.
Dr. Julie McBride is currently working on international advocacy related to children and armed conflict at War Child Holland. The research for this book was carried out at Queen's University Belfast, T.M.C. Asser Instituut The Hague, and Columbia University New York.
Available for download

Frontmatter, incl. Table of Contents