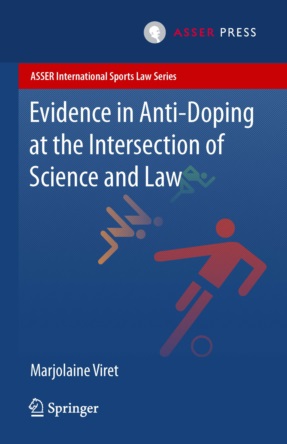 Evidence in Anti-Doping at the Intersection of Science and Law

Series: ASSER International Sports Law Series
November 2015
Order
Details
Published:

November 2015

Pages:

xxvi + 821 pp.

Publisher:

T.M.C. ASSER PRESS

Distributor:

Springer
This book is a comprehensive, practice-oriented guide to the evidentiary regime under the 2015 World Anti-Doping Code (WADC) including the functioning of the Athlete Biological Passport. It is the first to show how the interplay between science and law affects the collection and evaluation of evidence in anti-doping, and how paradigm shifts in anti-doping strategies may modify evidentiary assumptions implicit to the WADC regime.
Unique in its dealing with the subtleties of anti-doping science and legal implications, the book gives lawyers involved in anti-doping the keys to a better understanding of the science underlying the WADC regime, while providing anti-doping scientists with the first reference material to understand the legal framework in which their activities are embedded.
The emphasis of the book is on international doping cases and it relies predominantly on awards of the Court of Arbitration for Sport published up to Spring 2015. Written by an experienced Swiss lawyer it provides an insight into the Swiss legal system and its importance for the legal practice in doping matters.
Marjolaine Viret is an attorney-at-law in Geneva, Switzerland, specialising in sports and health law. She has gained significant experience in sports arbitration as a senior associate in one of Switzerland's leading law firms. She also holds positions within committees in sports organisations. Ms Viret had her doctorate on anti-doping approved in 2015. She participates as a researcher in a project for a commentary of the 2015 WADC funded by the Swiss National Science Foundation and is regularly invited to lecture or speak in various fields of sports law.
WINNER OF THE SWISS SPORTS LAW ASSOCIATION (ASDS) 2016 PRIZE
With forewords by Antonio Rigozzi and Martial Saugy and Sylvain Giraud.
Excerpts from a review:
To readers of this journal, Viret's important text offers a promising, though arguable a demanding and not essentially accessible read. In relation to many current debates, it provides much-needed back-up regarding the scientific and legal ramifications defining the anti-doping fight and the ways in which sanctions are inflicted on some athletes.
(Anti-doping) science is conceptually curbed from telling us how to use (anti-doping) science, and so is (anti-doping) law. Studied together - the way Viret has done it in her book - they do, however, furnish novel insights which (sport) philosophers and (sport) ethicists may pick up in an effort to provide some guidance from outside (anti-doping) science and (anti-doping) law.
- Jacob Kornbeck (2019) Evidence in Anti-Doping at the Intersection of Science and Law, Sport, Ethics and Philosophy, 13:2, 259-265, DOI: 10.1080/17511321.2018.1459815
This book appears in the ASSER International Sports Law Series, under the editorship of Dr. Dave McArdle, Prof. Dr. Ben Van Rompuy and Marco A. van der Harst LL.M.
Available for download

Frontmatter incl Table of Contents and Forewords by A. Rigozzi, M. Saugy and S. Giraud