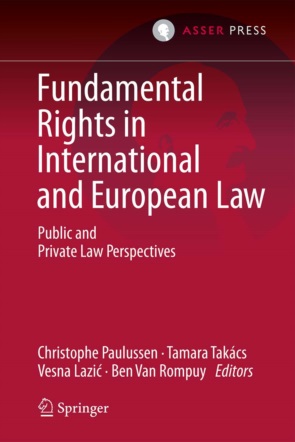 Fundamental Rights in International and European Law - Public and Private Law Perspectives
December 2015
Order
Details
Published:

December 2015

Pages:

xiv + 323 pp.

Publisher:

T.M.C. ASSER PRESS

Distributor:

Springer
In this book various perspectives on fundamental rights in the fields of public and private international law are innovatively covered. Published on the occasion of the 50th anniversary of the T.M.C. Asser Instituut in The Hague, the collection reflects the breadth and scope of the Institute's research activities in the fields of public international law, EU law, private international law and international and European sports law. It does so by shedding more light on topical issues – such as drone warfare, the fight against terrorism, the international trade environment nexus and forced arbitration – that can be related to the theme of fundamental rights, which runs through all these four areas of research.
Points of divergence and areas of common ground are uncovered in contributions from both staff members and distinguished external authors, having long-standing academic relations with the Institute.
The Editors of this book are all staff members of the T.M.C. Asser Instituut, each of them representing one of the areas of research the Institute covers.