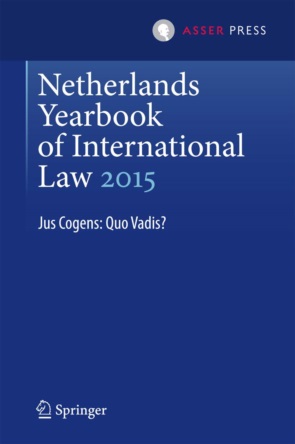 Netherlands Yearbook of International Law - Volume 46, 2015 - Jus Cogens: Quo Vadis?

Series: Netherlands Yearbook of International Law
August 2016
Order
Details
Published:

August 2016

Pages:

xv + 471 pp.

Publisher:

T.M.C. ASSER PRESS

Distributor:

Springer
Jus cogens is a formidable yet elusive concept of international law. Since its incorporation in the Vienna Convention on the Law of Treaties some 35 years ago, it has made tentative inroads into international legal practice. But its role in international law is arguably less prominent than might have been expected on the basis of its powerful potential and in view of wider developments in international law that call for constitutionalisation and hierarchy, including the processes of fragmentation and humanization.
This volume of the Netherlands Yearbook of International Law sets out to clarify the concepts and doctrines relevant to jus cogens and to sharpen the debate on its theoretical foundations, functions and legal effects. To that purpose, the volume brings together contributions on the genesis and function of jus cogens, on the application of jus cogens in specialized areas of international law and on its enforcement and legal consequences. Together they reinforce the understanding of jus cogens as a hierarchical concept of international law and shed light on its potential for further development.
Specific to this volume of the Yearbook:
Contains in-depth analyses of the current state of jus cogens in international law
Reflects different opinions on the relevance of jus cogens in international law
Discusses the position of jus cogens in specialized fields of international law
Written by a team of experts with extensive academic experience
Click here for general information about the Netherlands Yearbook of International Law (ISSN: 0167-6768, EISSN: 1574-0951).
If you are interested in submitting your article, please contact the Managing Editor: Dr. Dimitri Van Den Meerssche, T.M.C. Asser Instituut, The Hague, The Netherlands, D.Van.Den.Meerssche@asser.nl
Click here for the Author Guidelines, the next volume of the NYIL's topic and the documentation (online since 2011).
The Netherlands Yearbook of International Law is published in the Netherlands Yearbook of International Law Series
Available for download

Frontmatter, incl. Table of Contents