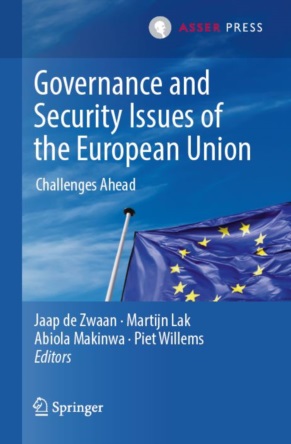 Governance and Security Issues of the European Union - Challenges Ahead
November 2016
Order
Details
Published:

November 2016

Pages:

xi + 353 pp.

Publisher:

T.M.C. ASSER PRESS

Distributor:

Springer
This book provides a comprehensive coverage of crucial issues concerning EU co-operation and European security. At present, Europe is confronted with a number of serious common and global challenges, the most important being the economic crisis, migration issues, geopolitical tensions at its external borders, terrorism, climate change and environmental challenges. These developments have a huge impact on the stability and security of the continent as a whole and on each individual European country. Europe, more particularly the European Union, has to organize its governance and security infrastructure in such a way that it can cope with these global threats. This edited volume collects a number of topics and themes connected to the governance and/or security dimensions of EU co-operation.
The book is divided into several parts, which deal respectively with the values and general principles of EU co-operation; institutional aspects of EU co-operation; a number of individual policy domains; areas of European criminal law; the external relations of the EU; and the future functioning of EU co-operation as a whole. The eighteen chapters, written by a team of experts with extensive practical and academic experience, contain insights and information valuable to researchers, students, practitioners and policy makers concerned with EU law and international law, with the developments within the European Union as well as with the external relations of the European Union.
About the editors:
Jaap de Zwaan is Lector European Integration at The Hague University of Applied Sciences, and Emeritus Professor of the European Union Law at Erasmus University Rotterdam. He served for nearly twenty years as a member of the Diplomatic Service of the Dutch Ministry of Foreign Affairs, where he worked notably in the domain of European integration. He was also the Director of the Netherlands Institute of International Relations Clingendael in The Hague for almost six years.
Martijn Lak is a historian and a Lecturer and Researcher at the Department of European Studies of The Hague University of Applied Sciences. He studied Journalism and History at Utrecht University, and obtained his Ph.D. in 2011. Martijn Lak specializes in post-war Dutch-German economic and political relations and contemporary German history.
Abiola Makinwa is a Senior Researcher and Lecturer in commercial Law with a special focus on Anti-Corruption Law and Policy at The Hague University of Applied Sciences. Abiola Makinwa holds a Ph.D. from Erasmus University, Rotterdam. She is a frequent speaker on anti-corruption law and policy and has introduced Anti-Corruption Compliance as an undergraduate course at The Hague University.
Piet Willems is a Lecturer in International and European Law at The Hague University of Applied Sciences, where he focuses on project-based learning, moot court coaching and competition law. His research activities focus on regulation in the European Union. He obtained both his Master's degree and his LL.M. in European Law from Ghent University.
Specific to this book:
Brings together material on issues concerning EU co-operation and European security
Provides a comprehensive coverage of relevant/crucial issues
Written by a team of experts with extensive practical and academic experience
Available for download

Frontmatter, incl. Table of Contents