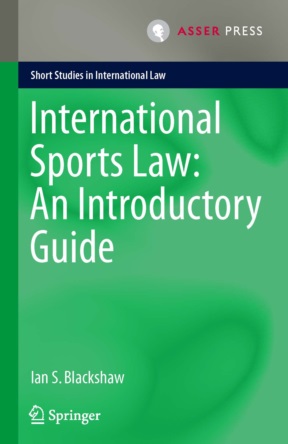 International Sports Law: An Introductory Guide

Series: Short Studies in International Law
August 2017
Order
Details
Published:

August 2017

Pages:

ix + 153 pp.

Publisher:

T.M.C. ASSER PRESS

Distributor:

Springer
This book, written by an expert in the field, covers some of the following issues, namely high-profile WADA cases such as that of Maria Sharapova, the Bosman ruling, decisions by the Court of Arbitration for Sport (CAS), and footballers' employment contracts and transfers for enormous amounts. These issues have led to sport no longer being confined to the back pages of traditional media such as newspapers, but increasingly finding its way onto the front pages and into new media.
Since ancient times sport has been practised but today it is a multi-billion dollar 'industry', and Sports Law as a discipline in its own right is developing apace and is increasingly being studied and practiced at all levels of interest and competency. Thereby creating a need amongst students, lawyers, accountants, sports marketers, promoters, agents, sports broadcasters, sports administrators and managers for some basic and general knowledge of the legal aspects of sport.
This introductory guide to international sports law will serve to satisfy the needs currently not being met in present-day sports law literature, and should also be of interest to researchers and the general reader. Although the topics covered are necessarily selective, sports law being such a vast subject, they are representative of the main legal issues facing the world of sport today. Throughout the book, the reader is referred to articles, publications and other materials that provide further information on the various subjects treated in the text, thus enhancing its value and usefulness. The Law is stated as at 1 January 2017, according to the sources available at that date.
Prof. Ian S. Blackshaw is an International Sports Lawyer, a Solicitor of the Supreme Court of England and Wales, and a Visiting Professor at several Universities, including Anglia Ruskin University, Cambridge, United Kingdom, and The University of Pretoria, South Africa. He is also a member of the Court of Arbitration for Sport, Lausanne, Switzerland.
Specific to this book:
Written by an acknowledged expert in the field
Clear and concise presentation
Includes references throughout to further information and materials
With a foreword by Prof. Dr. Steve Cornelius, International Sports Law Centre, University of Pretoria, Pretoria, South Africa.
Excerpt from a book review:
"Prof Ian Blackshaw has provided an excellent and comprehensive overview of the core areas and intricacies of 'sports law', enabling the reader to understand why it is, quite rightly, a distinct doctrine of law worthy of study and research on its own merits."
"It's an excellent guide to all aspects of sports law for lawyers – and those interested in this subject matter in general."
Hilary Forde,
Sports solicitor and director of racing governance
and compliance at the Irish Greyhound Board
Law Society Gazette, Dec. 2017
Available for download

Frontmatter, incl. Table of Contents