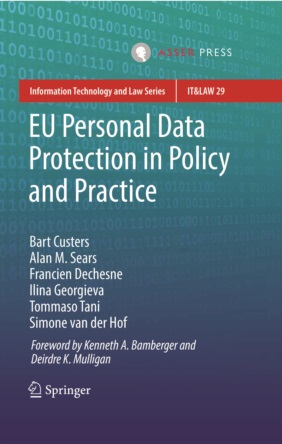 EU Personal Data Protection in Policy and Practice

Series: Information Technology and Law Series
March 2019
Order
Details
Published:

March 2019

Pages:

xix + 249 pp., 15 ill. (13 fc)

Publisher:

T.M.C. Asser Press

Distributor:

Springer
In this book, the protection of personal data is compared for eight EU member states, namely France, Germany, the United Kingdom, Ireland, Romania, Italy, Sweden and the Netherlands. The comparison of the countries is focused on government policies for the protection of personal data, the applicable laws and regulations, implementation of those laws and regulations, and supervision and enforcement.
Although the General Data Protection Regulation (GDPR) harmonizes the protection of personal data across the EU as of May 2018, its open norms in combination with cultural differences between countries result in differences in the practical implementation, interpretation and enforcement of personal data protection.
With its focus on data protection law in practice, this book provides in-depth insights into how different countries deal with data protection issues. The knowledge and best practices from these countries provide highly relevant material for legal professionals, data protection officers, policymakers, data protection authorities and academics across Europe.
Bart Custers is Associate Professor and Director of Research at the Center for Law and Digital Technologies of the Leiden Law School at Leiden University, the Netherlands. Alan M. Sears, Francien Dechesne, Ilina Georgieva and Tomasso Tani are all affiliated to that same organization, of which Professor Simone van der Hof is the General Director.
Specific to this book:
Focuses on law in action, rather than on legal theory, providing practical knowledge/insights for legal professionals, policymakers, data protection authorities and academics
Compares practices in eight different European countries, showing different ways of addressing data protection issues and disclosing best practices
Shows that, despite legal harmonization across the EU, practical differences in the implementation, interpretation and enforcement continue to exist
With a foreword by Kenneth A. Bamberger and Deirdre K. Mulligan of the Berkeley Center for Law and Technology, University of California, Berkeley, USA.
Excerpts from a book review:
As a snapshot of national legislation, public policy and administrative practices prior to the entry into force of the EU General Data Protection Regulation (GDPR), this book presents evidence from eight member states (Netherlands, Germany, Sweden, UK, Ireland, France, Romania and Italy) to define their position in relation to each other, and to the general legal framework (p. xviii). Echoing criticisms of EU legislation as being concerned with 'procedural' rather than 'substantive fairness' (p. 4), Custers and colleagues aim to go beyond the level of prescription, questioning also social attitudes and practices and the degree to which each country managed to deliver fundamental rights protection to citizens. (...)
Unlike what one might suspect, this is not an edited book, but rather a single text co-authored by six colleagues. (…) it is a text that goes beyond the surface to furnish readers with a depth of analysis and a level of detail not always found in hardcopy publications. (…) Apart from this, it offers an attractive read and a clear style of presentation.
- Dr Jacob Kornbeck, review in (2021) 4 JDPP 1 of 'EU Personal Data Protection in Policy and Practice'.
The book review is published in Journal of Data Protection & Privacy, Volume 4 Number 1 2021 (ISSN 2398-1679), for the full review, see https://www.henrystewartpublications.com/jdpp/v4
This is Volume 29 in the Information Technology and Law (IT&Law) Series