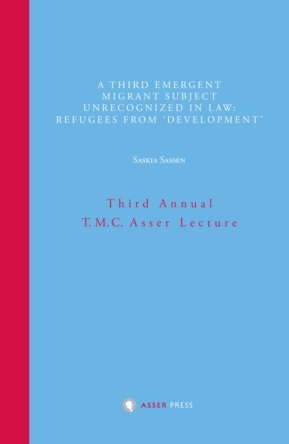 A Third Emergent Migrant Subject Unrecognized in Law: Refugees from 'Development' - Third Annual T.M.C. Asser Lecture

Series: Annual T.M.C. Asser Lecture Series
November 2018
Order
Details
Published:

November 2018

Pages:

viii + 42 pp.

Publisher:

T.M.C. Asser Press

Distributor:

T.M.C. Asser Press
Saskia Sassen on A Third Emergent Migrant Subject Unrecognized in Law: Refugees from 'Development', delivered by her as the Third Annual T.M.C. Asser Lecture in November 2017 in the Peace Palace in The Hague:
'There is an emergent type of migrant not formally recognized in law. She is a kind of refugee, but not of war. Rather this is a refugee from particular forms of economic development that not only cause environmental destruction but also have expelled millions of rural smallholders from their land over the last few years.
They include mining, plantations, land grabs to expand cities or new built types of private enclaves for the rich, water grabs by the big bottlers, and more. These modes of development are typically registered as "economic development" and show up as growth in a country's GDP. The fact that they expel millions of smallholders and often destroy small manufacturing and other local economic activities is not registered in those measures. The millions who have been expelled from their land (mostly in Africa, Asia and Latin America) are invisible to those standard measures. The options they typically confront are either to go to the slums of big cities in their countries or try to emigrate.
The rapid surge in these flows combined with the conditions they leave behind raise a question that organizes much of the analysis: Are the categories and the laws (national and international) we use to understand and describe migrants enough to capture this third type of emergent migrant – a migrant of economic developments that have created massive expulsions of people? My answer is: not quite.
Can we develop a new legal regime that recognises these outcomes and either condemns them or secures justice for the millions of people whose sources of livelihood are being summarily and often brutally destroyed?'
Saskia Sassen is the Robert S. Lynd Professor of Sociology at Columbia University and a Member of its Committee on Global Thought (www.saskiasassen.com). Her books are translated into over 20 languages.
Recent books are Expulsions: Brutality and Complexity in the Global Economy (Harvard University Press 2014), Territory, Authority, Rights: From Medieval to Global Assemblages (Princeton University Press 2008), A Sociology of Globalization (W.W. Norton 2007), and the 4th fully updated edition of Cities in a World Economy (Sage 2012).
Prof Sassen is the recipient of many awards and honors, including multiple doctor honoris causa, named lectures, and being selected as one of the top global thinkers on diverse lists. She was awarded the 2013 Principe de Asturias Prize in the Social Sciences and elected as a Foreign Member of the Royal Netherlands Academy of Sciences.
The lecture held by Saskia Sassen is published as a book in the Annual T.M.C. Asser Lecture Series
Download the full text of the Third Annual T.M.C. Asser Lecture below or order the printed version at press@asser.nl at EUR 10,00 excl. p&p.
Available for download

Third Annual T.M.C. Asser Lecture