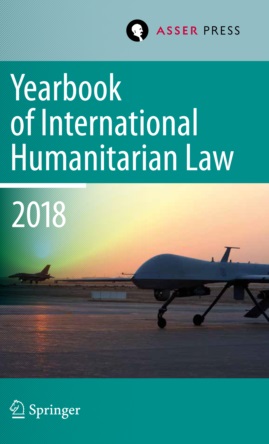 Yearbook of International Humanitarian Law, Volume 21, 2018

Series: Yearbook of International Humanitarian Law
November 2019
Order
Details
Published:

November 2019

Pages:

xii + 285 pp., 2 ill.

Publisher:

T.M.C. ASSER PRESS

Distributor:

Springer
The main theme of this volume of the Yearbook of International Humanitarian Law is weapons law. In several chapters, how International Humanitarian Law (IHL) copes with old and new weapons as well as political developments in regard to military technology is discussed, while in two chapters the significance of non- or less-lethal weapons in peace-keeping and law enforcement operations as well as the legality of lethal autonomous weapon systems under IHL are analysed. Moreover, the volume describes the current status of nuclear deterrence under international law. Another layer is added by examining how IHL influences the programming of automatic target recognition systems using artificial intelligence.
The second part of the book contains a historic perspective on the roots of IHL in Europe, which can be traced back to the ninth century, as well as a Year in Review describing the most important events and legal developments in the area of IHL that took place in 2018.
The Yearbook of International Humanitarian Law is the world's only annual publication devoted to the study of the laws governing armed conflict. It provides a truly international forum for high-quality, peer-reviewed academic articles focusing on this crucial branch of international law. Distinguished by contemporary relevance, the Yearbook of International Humanitarian Law bridges the gap between theory and practice and serves as a useful reference tool for scholars, practitioners, military personnel, civil servants, diplomats, human rights workers and students.
Specific to this Yearbook:
High-quality contributions
Double blind peer review system
Innovative articles
Current topics
The Yearbook of International Humanitarian Law is published in the Yearbook of International Humanitarian Law Series
N.B. Each year, Correspondents' Reports are written to accompany the Yearbook. For these as well as for the Call for Papers and Guidelines, please see www.asser.nl/asserpress/documentation/