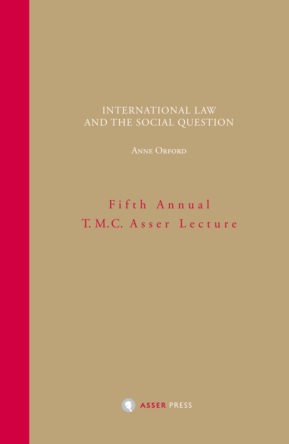 International Law and the Social Question - Fifth Annual T.M.C. Asser Lecture

Series: Annual T.M.C. Asser Lecture Series
November 2020
Order
Details
Published:

November 2020

Pages:

xiv + 67 pp.

Publisher:

T.M.C. ASSER PRESS

Distributor:

T.M.C. Asser Press
Anne Orford on her lecture International Law and the Social Question:
'While international law has played a central role in creating the conditions for market liberalization on a global scale, many international lawyers have paid less attention to the social question - that is, the question of who is able to participate in political decision-making about economic relations and property rights.
The current moment of perceived backlash to international law and institutions offers an opportunity to think again about the ways of relating politics, economics, and the social that have been consolidated through international law and to do so by posing the issue as a question of representation.
How might international economic law-making and adjudication be re-embedded within political processes? And how can foundational political questions about property, security, survival, and freedom be returned to democratic control?'
Anne Orford is Redmond Barry Distinguished Professor, Michael D Kirby Chair of International Law, and an Australian Laureate Fellow at Melbourne Law School. She is a Fellow of the Academy of the Social Sciences in Australia and has held visiting positions at Lund University, University Paris 1 (Panthéon-Sorbonne), the University of Gothenburg, NYU School of Law and Harvard Law School. She has been awarded honorary doctorates by Lund University, the University of Gothenburg and the University of Helsinki.
Orford's scholarship combines the study of history and theory of international law with an engagement with central debates in social theory, history, economics and philosophy. Her major publications include International Authority and the Responsibility to Protect (Cambridge University Press 2011), Reading Humanitarian Intervention (Cambridge University Press 2003), The Oxford Handbook of the Theory of International Law (Oxford University Press 2016) (as co-editor), and Pensée Critique et Pratique du Droit International (Pedone 2020).
The lecture held by Anne Orford is published as a book in the Annual T.M.C. Asser Lecture Series
Download the full text of the Fifth Annual T.M.C. Asser Lecture below or order the printed version via press@asser.nl at EUR 10.00 excl. p&p.
Available for download

Fifth Annual T.M.C. Asser Lecture