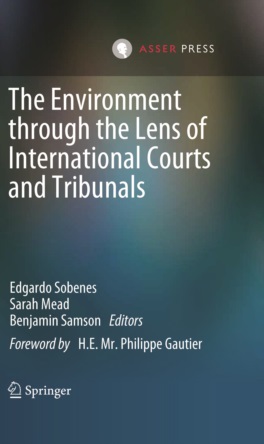 The Environment through the Lens of International Courts and Tribunals
June 2022
Order
Details
Published:

June 2022

Pages:

xvi + 755 pp., 1 ill. (fc)

Publisher:

T.M.C. ASSER PRESS

Distributor:

Springer
This book brings together leading and emerging scholars and practitioners to present an overview of how regional, international and transnational courts and tribunals are engaging with the environment.
With the natural world under unprecedented pressure, the book highlights the challenges and opportunities presented by international dispute resolution for the protection of the environment and the further development of international environmental law.
Presented in three parts, this contributed volume addresses how courts and tribunals engage with environmental matters (Part I); how courts and tribunals are resolving key issues common to environmental litigation (Part II); and future opportunities and developments in the field (Part III).
The book is an essential resource for students, practitioners and academics alike interested in international litigation and the protection of our global environment.
Edgardo Sobenes is an international lawyer and consultant in international law (ESILA), Sarah Mead is a lawyer specialising in international environmental and human rights law, and Benjamin Samson has a doctorate from Université Paris Nanterre and is a consultant in international law.
Specific to this book:
Covers each of the main international, regional and transnational courts and tribunals
Each chapter focuses on the environment in the context of international dispute resolution
Offers a practical analysis on how international courts and tribunals deal with, apply, and contribute to the development of international environmental law
With a foreword by H. E. Mr. Philippe Gautier, Registrar, International Court of Justice
Available for download

Front matter incl. foreword, preface and toc